FEATURES
Jotform Survey Maker Features
Ask the right questions with interactive surveys that engage users and boost completion rates. Once you've built a custom survey or questionnaire and collected your responses, you can easily track and analyze your survey data with Jotform's real-time reporting and data analysis tools.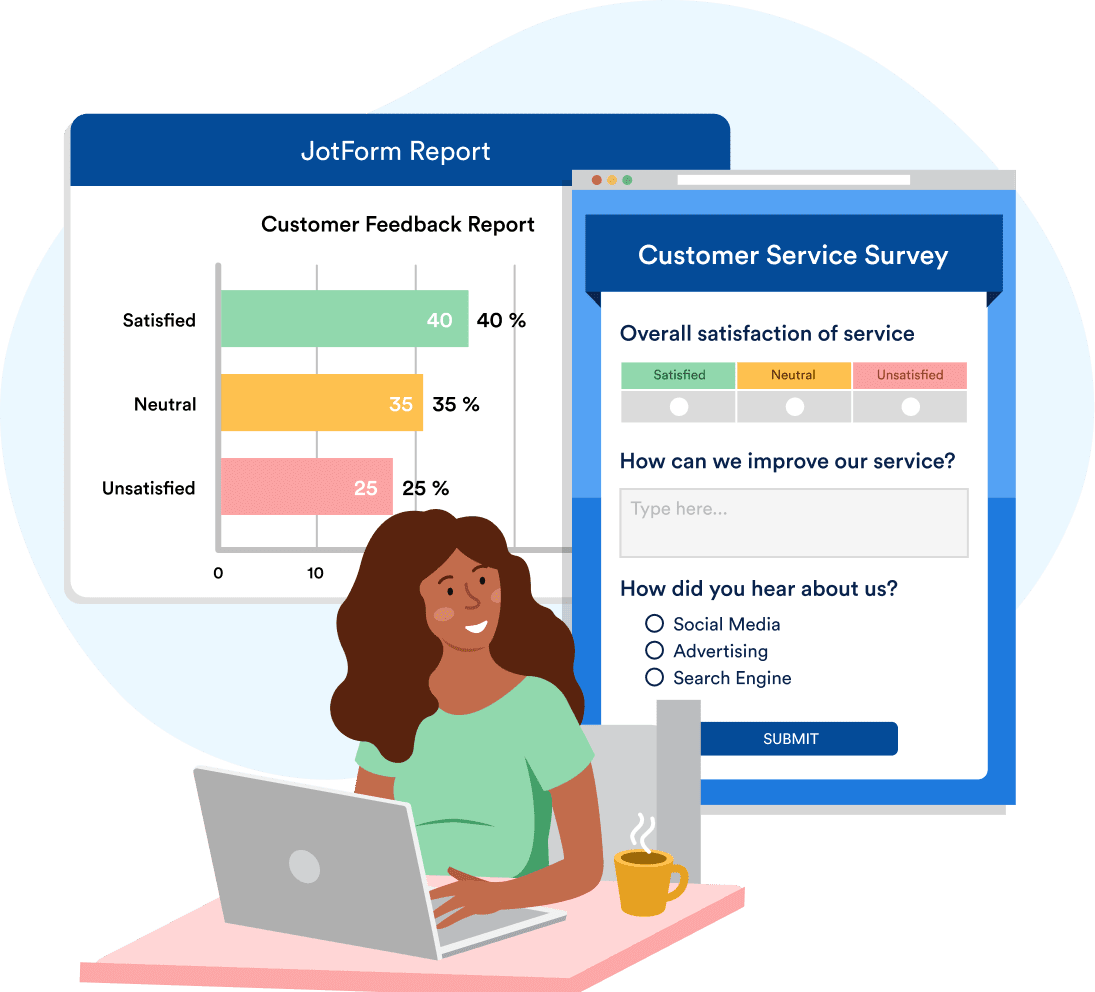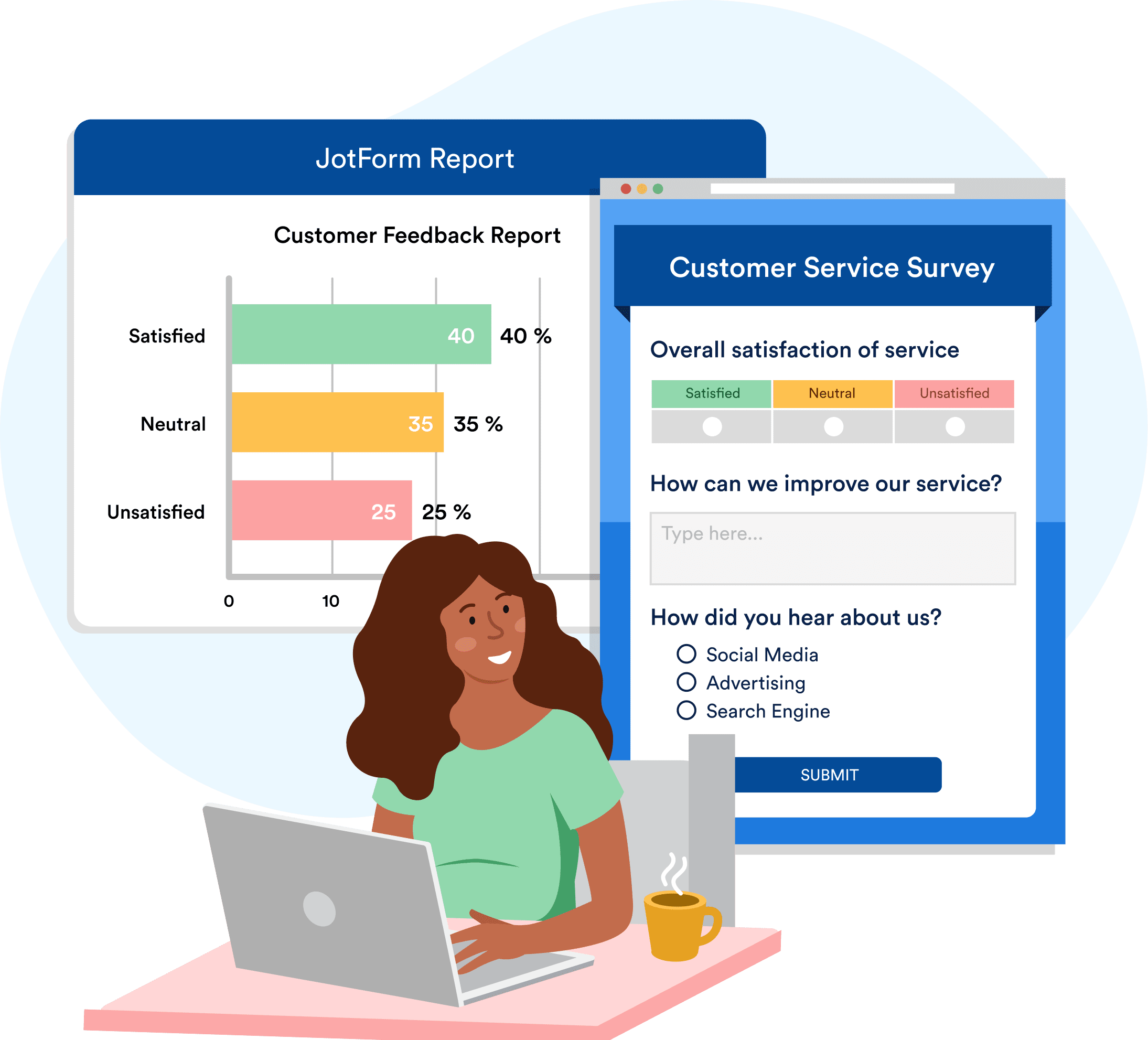 Free Survey Templates
Don't want to make your survey from scratch? Get a head start with a readymade survey template. Choose one of our 800+ free templates and customize it to meet your exact needs.
Customer Feedback Survey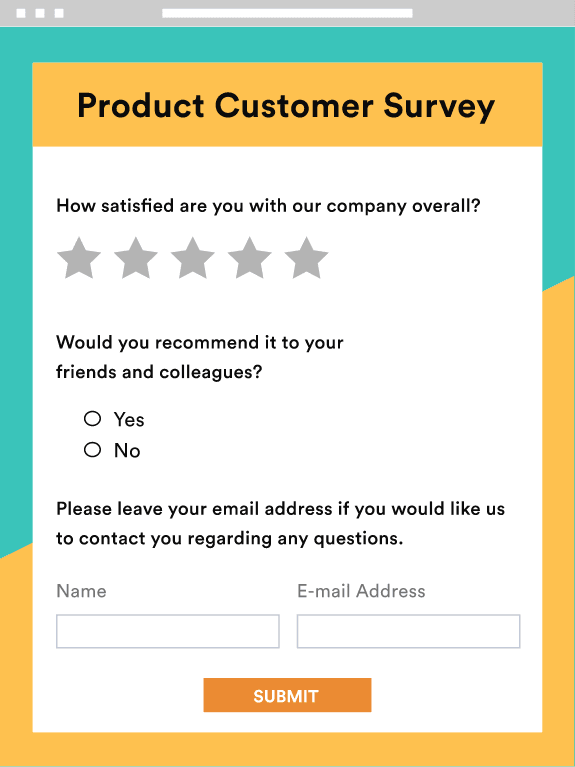 Health Survey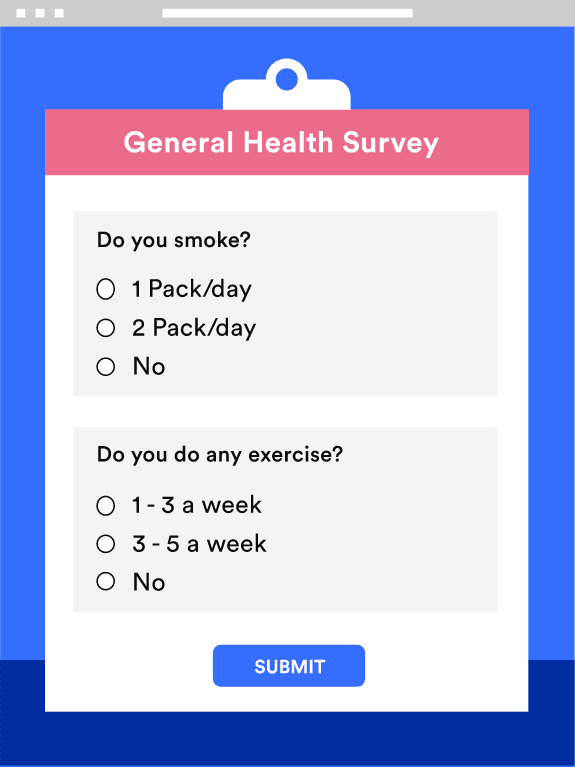 Event Satisfaction Survey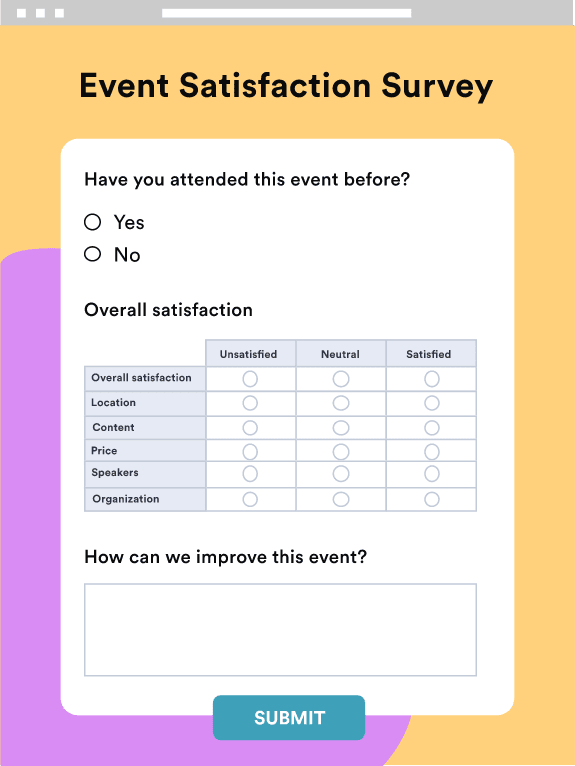 Classic and Card Forms
Pick a survey format that works best for you. Create a classic survey that displays all questions on a single page — perfect for lengthy questionnaires. Or use Jotform Cards to ask one question per page — great for increasing your response rate!
Drag-and-Drop Customization
Whether you'd like to add more questions, upload your company logo, or change fonts and colors, Jotform's drag-and-drop survey maker gives you total customization control with no coding required.
Conditional Logic and Calculations
Set up conditional logic to build an interactive survey that personalizes the questions based on each user's responses. By tailoring your survey to each individual user, you can boost completion rates and get more responses. You can also use our Form Calculation widget to automatically perform calculations.
Multiple Embed Options
Embed surveys in any webpage without coding. Just copy and paste your survey's unique embed code into your website HTML. Jotform also offers easy third-party publishing options on platforms such as WordPress, Squarespace, Facebook, and more. You can also share your survey via email invite, form link, or social media.
Save and Continue Later
Worried users won't want to complete your lengthy questionnaire? Give them the option to take a break and submit their form later with our Save and Continue Later feature — a great way to boost completion rates for your forms.
Mobile-Responsive Design
Offer surveys on the go with Jotform! All forms created with our Form Builder are mobile-friendly, meaning your survey will look and work great on any device.
Progress Bar
Let your users know how close they are to completing your questionnaire or survey. Show how many pages are left in your card-style form or how many questions are left in your classic form.
Survey Report Tool
Make the most of your feedback with Jotform Report Builder. Turn form responses into professional reports in a single click — easy to download as PDFs, share with a link, or embed in your website. Embedded reports update automatically with every new submission!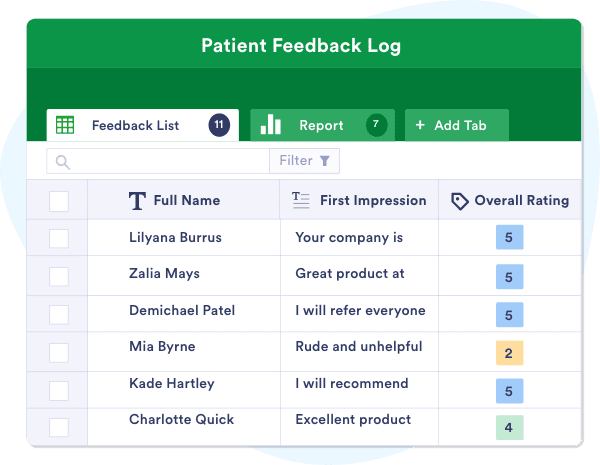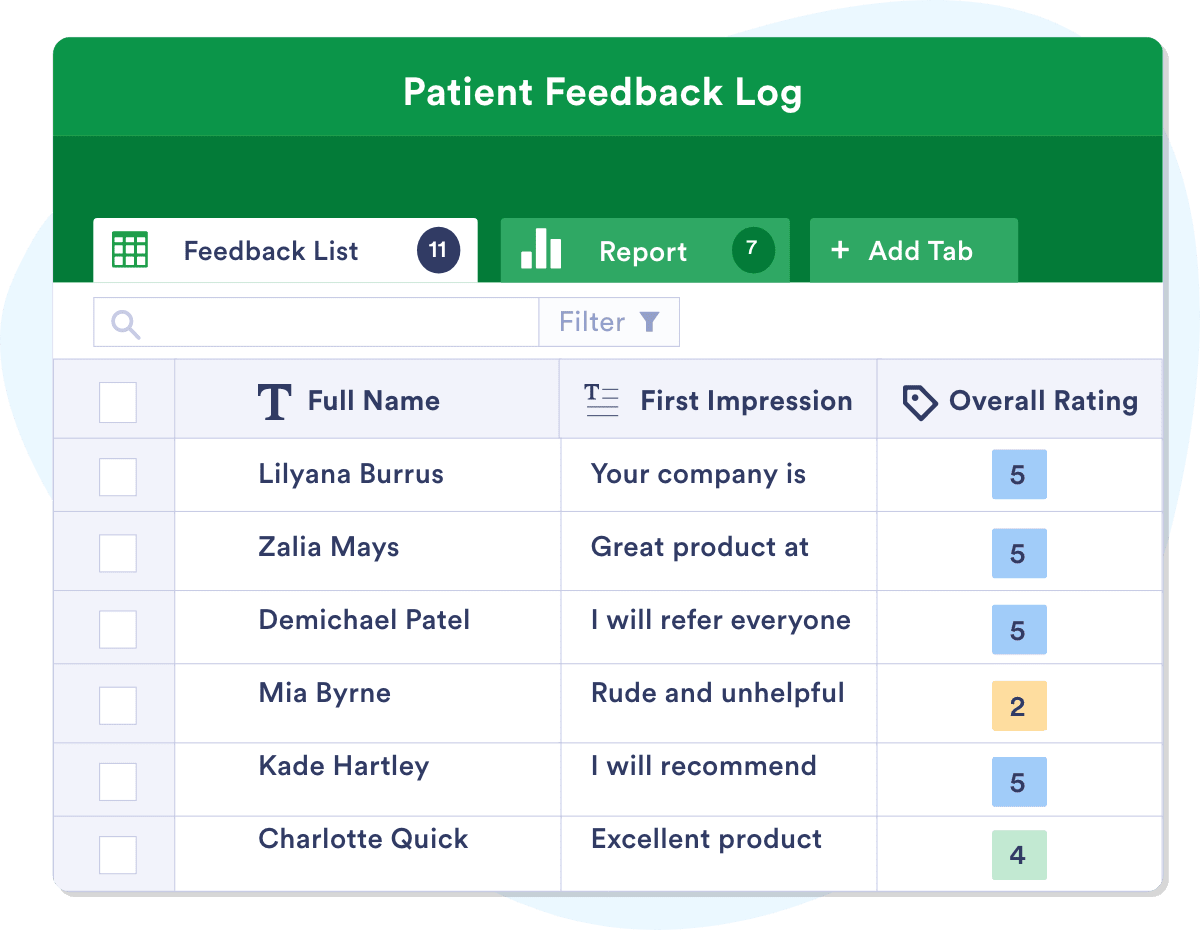 All-in-One Database
View survey or questionnaire responses in Jotform Tables, our spreadsheet-database hybrid platform. Set up filters to organize and analyze your data — and reveal important insights about your leads or customers.
Email Notifications
Send confirmation emails and follow-up emails to survey participants — and stay in touch with prospective leads. Set up custom autoresponder emails for your surveys without any coding.
Secure Surveys
Rest easy knowing your information is secure. Jotform protects your data with a 256-bit SSL connection, GDPR compliance, CCPA compliance, an option to encrypt your forms, and optional HIPAA compliance for healthcare professionals.
Contactless Kiosk
Get survey responses at trade shows, conferences, or in the field with Kiosk Mode in the Jotform Mobile Forms app. Kiosk Mode will automatically restart your survey after each submission.
Offline Surveys
No Wi-Fi? No problem. With our free app Jotform Mobile Forms, users and assignees can fill out your surveys anywhere, with no internet connection required - so you and your team can enjoy uninterrupted data collection on the go.