TEKNİK İNCELEME
Gizlilik kaygıları çağında müşteri verileri nasıl yönetilir?
How to future-proof your organization's customer data management policies
Most organizations already have policies and solutions to safely store, report on, and erase customer data in compliance with regulations. But since regulations constantly evolve, you need a strategy to mitigate future risks.
Responding to changes as they come up will be more time-consuming than staying ahead of them. Ensuring your customer data privacy system is future-proof saves time and money and makes it easier to navigate the changing data landscape. But revamping your existing policy, or building a new one from scratch, requires careful research and planning.
What do futureproof customer data management policies look like?
Many organizations have already overcome the strategy hurdles that defined the early days of customer data governance, including identifying what information they need, how to get it, and how to store it. Next, organizations focused on improving accuracy and eliminating data silos and storage of unnecessary information to maximize and streamline the use of customer data. Now, compliance with data privacy regulations and consumer trust are becoming issues that impact profitability.
Here's what a future-proof policy looks like.
Designed for global standards
Even if your organization operates in a limited market, you should design your policy to match the highest standards in the world. Many municipalities look to others for guidance on how to draft their own data privacy legislation, so the laws of one land could soon become the laws of yours.
Failure to adopt a global mindset could also hinder your organizational growth. You may decide to expand into a new market or additional regions. If those new areas are governed by data privacy regulations you neglected to incorporate into your policy, your organization will have to start from square one.
All-encompassing
A modern data management policy needs more than input from legal and IT — it also needs to engage stakeholders and unify departments to enforce compliance. Customer data can end up in the hands of marketing, sales, customer service, accounting, and other departments. Sharing data between these departments helps provide a better customer experience, but it also creates more risks. With data privacy policies increasingly influencing consumer behavior, organizations need to treat their responsibility for data protection as a revenue-enabler rather than an expense.
Uniform
A future-proof data management policy is the same for each department and employee. Uniformity streamlines training. If an employee moves from one department to another, they won't have to learn a new set of data privacy policies to function in their new role. Having one universal policy may even allow you to create organization-wide data management training.
Transparent
Consumers want to know exactly what information an organization collects and why. A future-proof customer data management policy details exactly when and how to share this information with customers. Transparency is not a one-time action but an ongoing practice that needs to be enshrined in protocol.
Flexible and scalable
A future-proof customer data management policy adapts to changing regulations, as well as the needs of a growing organization. Every aspect of the policy is expandable without making drastic, structural changes, even when new laws go into effect. You can update your data management policy seamlessly when it's powered by the right software.
Developing a future-proof data management policy
The guidelines above clarify the goals of your customer data management policy, but putting them into action is a different matter.
Developing a new policy begins with researching current data privacy laws. Find the laws that govern your market and the regulations influencing the global business community. Search government web pages for the full texts of their compliance rules or other resources that simplify the language. The European Union has a checklist for how to establish GDPR compliance. Organizations like Digital Impact offer toolkits to help nonprofits improve their data privacy compliance.
The next step is auditing your organization's current policy to identify how it fails to comply with global standards. List everything you need to change and how you'll update it.
This audit is also an opportunity for stakeholders to flag any potential challenges of enforcing global standards. Get input on drafts of the policy from experts in the department involved in customer data management. They will have more insight into challenges than IT or legal. Partnering with them early in the process will improve buy-in and aid rollout and implementation.
Finally, train all employees who handle sensitive customer data on your organization's new policy. This training should educate employees on the following:
The protocols they should follow to comply with the new policy. Highlight the changes from your previous policy.
The dangers of data breaches. Mention fines that result from non-compliance and the impact data leaks could have on customers.
Create an internal chain of command that outlines who enforces the customer data management policy, as well as who will amend it as regulations evolve. Establish a line of communication for employees who may have questions after training.
Throughout this process, leverage data privacy consultants, lawyers, or other experts to ensure your policy is compliant and easy to update. No organization has to handle this challenge alone.
The importance of a scalable customer data management system
Customer data management policies are useless unless enforced. A customer data management system or platform serves as a dashboard for all your customer information and the central tool of privacy policy enforcement. This technology needs to be as scalable and future-proof as your policy.
A data management system should enable your organization to follow whatever privacy policy you want. Beyond your policy, the management platform you choose needs to follow specific compliance protocols on the backend. For example, even if you draft a policy that doesn't fully comply with GDPR, your platform should comply with it in case you want to expand into Europe later. Otherwise, you will have to find a new technology solution in addition to updating your policy.
Using globally compliant technology right off the bat reduces the risk of compliance gaps and helps your organization align with your industry's highest standards. This lays the foundation for trust with your community, customers, and prospects, as we'll cover in the next chapter.
TRUST SECOND ONLY TO PRICE
FOR PURCHASE AND LOYALTY
Percent who say they focus most on each brand attribute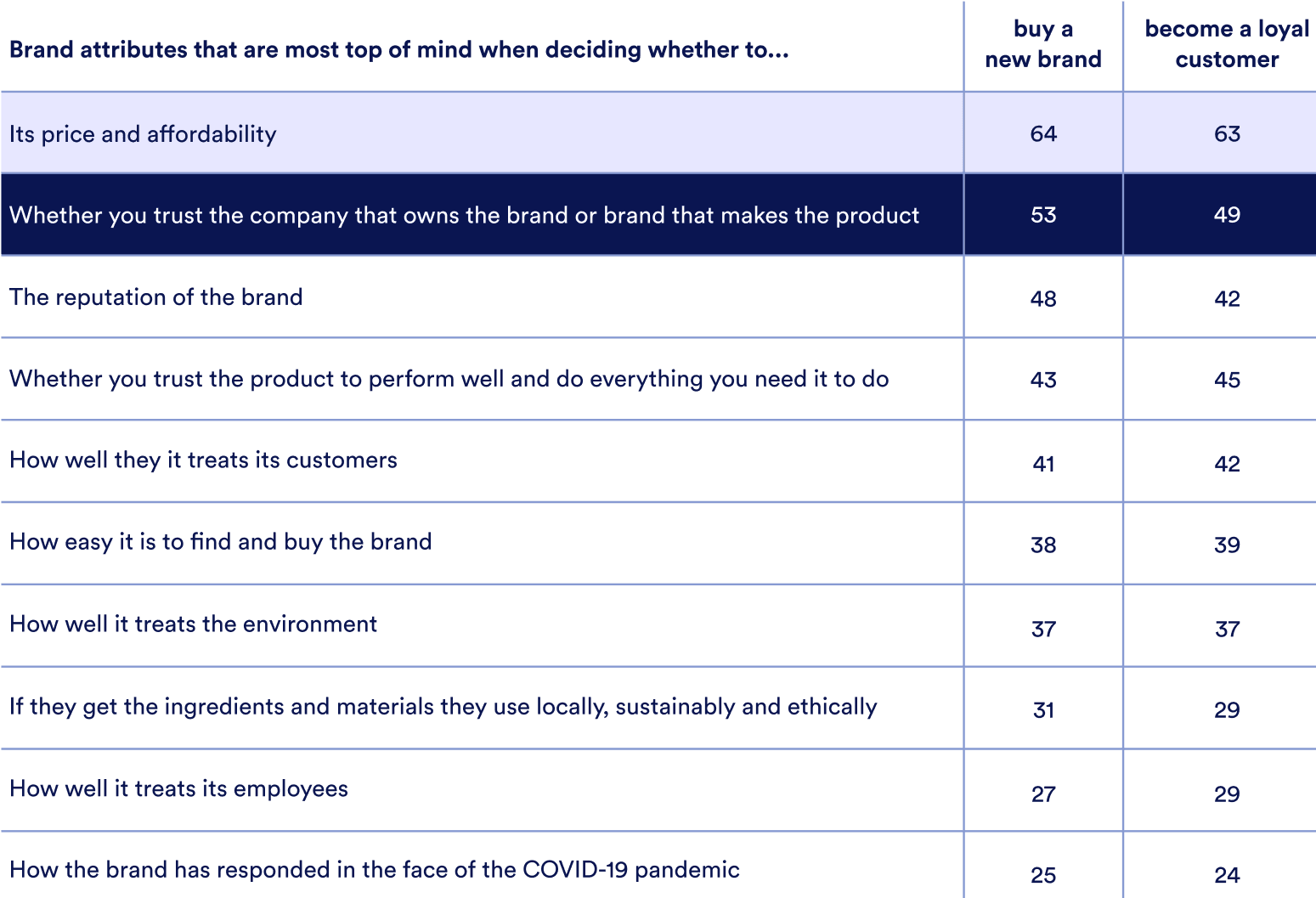 Source: Edelman
How to take ownership of customer data
What to look for in a customer data management system
Finding a comprehensive customer data management system is vital to building a future-proof privacy policy. But data privacy compliance is just one trait to look at when evaluating different options. Here are other parameters and features to consider.
Maintainability
Organizations should prioritize long-term growth over speed when choosing a solution. In fact, an estimated 55 percent of firms will inflate their tech debt if they prioritize speed over maintainability, which could hinder future tech investments.
Güvenlik
How safe is the platform from hacks and cybersecurity attacks? Does it meet industry and global security standards for data storage, encryption, or other protections? How customizable and robust are data-sharing and restriction capabilities?
Customizable
How much can users personalize the platform? Can you tailor the experience to match your brand? Does the platform improve customer experience with conditional logic or prefilled text? Is it possible to remove unnecessary data silos so different departments, like marketing and customer service, can work together more effectively? Can you improve shareability without increasing the risk of compliance breaches?
No code
Employees should be able to use and customize the platform without any coding skills. No-code solutions maximize user experience, both on the backend and the front end.
Mobile/cloud-based
In a hybrid workplace, employees need to connect to customer data wherever they are without sacrificing security or compliance.
Plug and play
The ideal solution should be ready to go without a complex installation process. Previous generations of office software sometimes required weeks or months for the seller to customize it. Modern data management systems walk users through installation.
End-to-end
The platform should be completely end-to-end, directly enabling the collection, use, and portability of data. Consider solutions that let users survey customers, analyze and share data, and generate external reports. These platforms should also automate communications and management workflows to minimize administrative tasks.
No-Code by the numbers:
41% of organizations used low- or no-code tools in 2019 and 2020, up from 34% the previous years.
70% of new applications developed by organizations will use low-code or no-code technologies by 2025.
48.6% of enterprises surveyed are purchasing low-code or no-code platforms to move innovation in-house.
95% of new digital workloads are estimated to be deployed on cloudnative platforms by 2025, compared just 30% in 2021.
Nearly 60% of all custom apps are built by individuals outside the IT department. 30% of those apps are built by employees with little to no technical development skills.
How to become a customer-first organization
The risks of neglecting customer data security
Adopting a customer-centric approach to data management isn't just a way to maintain market share — it's necessary to navigate data privacy changes.
Regulators are becoming more stringent about levying fines for violations, and the fines are becoming larger. In 2021, the Luxembourg Data Protection Authority fined Amazon $887 million for GDPR violations. The same year, WhatsApp was fined $266 million by the Irish Data Protection Commission for similar breaches.
In 2021, the average cost of data breaches was $4.24 million, but only a fraction of this goes to fines and remediation. Lost business and revenue accounts for one third of the cost, making it the most expensive aspect of any breach. After a major data breach, a tarnished reputation can haunt an organization for years, slowing recovery.
Becoming a customer-centric organization
Using data to improve customer experience begins with a strategy to get more first-party information. This strategy should cover how you gather information, what employees do with it, and how you show customers that you're listening to their feedback.
Begin by initiating conversation with your customers. Develop surveys and rating systems to collect customer feedback to start building your first-party database. Consider rewarding participation with discounts or other promotions.
Use your customer data management platform to record the feedback, and analyze the data to develop new features, products, services, or customization options. Many organizations already do this to boost revenue, productivity, and customer loyalty.
Trader Joe's is known to implement customer feedback to optimize inventory and hours, helping it achieve an astounding $1,750 in sales per square foot. Salesforce famously turned its customer feedback forum into an online community called IdeaExchange. Originally started to gather suggestions from customers, it quickly evolved into a way for business owners to connect.
Transparency is another key to improving customer experience — and complying with emerging data privacy regulations. Your organization should explain the reason for gathering or tracking data, highlight the value of doing so, and offer an opportunity to opt out of data collection. Have these messages come from actual leaders at your company. For example, frame an email announcing new data privacy features as a message from the head of your IT department.
Providing more insight into your organization's culture, leadership processes, and decisionmaking can dramatically improve customer engagement as well — with benefits to the bottom line. When consumers understand an organizations' purpose, they're four times more likely to purchase from the company.
Take your customer-centric approach deeper by forming an advisory board for your organization's most loyal followers. This rewards them with the opportunity to influence decision-making and product development, while helping you learn what they want. Analyze customer data to identify who they are and invite them to participate.
The most important element of becoming a customer-centric organization is to meet customers where they are: online, through digital experiences. A no-code data management platform will create touchpoints with each of your customers while streamlining collaboration as well as data compilation and storage.
Forrester Research predicts that the most innovative leaders in tech will move beyond digital transformation to focus on human-centered transformation that merges customer and employee experience.
Source: Forrester
Putting data privacy concerns to rest
The biggest data challenge lies not in how it's used but in how it's kept safe — and how to ensure data safety earns customer trust. Organizations must strike a delicate balance between regulation compliance, customer expectations, and their own data needs. Effectively managing all of this will soon be a leading indicator of whether or not an organization can succeed.
Customer-centric has been a buzzword for the past decade, but organizations must take the concept to heart as they safeguard the valuable information they've been entrusted with. Fortunately, in their efforts to improve security and compliance and overhaul IT infrastructure, organizations can become radically transparent and build a new type of relationship with their customers. When organizations choose an end-to-end enterprise solution, they have the resources they need to remain compliant with international data privacy laws, as well as scale in larger markets. With a customizable, no-code enterprise solution, your organization has the ultimate resource for success in customer data management and your respective market.