Author
Aytekin Tank is founder of JotForm. He currently leads the JotForm development team. He loves to hear from JotForm users. Feel free to shoot him an email at aytekin at jotform.com.
---
Welcome to the JotForm blog, where you can read about new JotForm features and find helpful online form tips for creating top-notch forms, user case studies, and much more.

Feel free to stay a while, drop a comment or two, laugh at our corny jokes, and make sure to share the articles you like on social media.
---
---
---
Submit Your Form Designs to the Theme Store!
December 09, 2014
JotForm is about to release one of our most exciting features ever - The
JotForm Theme Store
. This will be a place where users can buy and sell their form designs among each other.
Publish your forms to the Theme Store today to be featured when the Theme Store is launched on Dec 15th!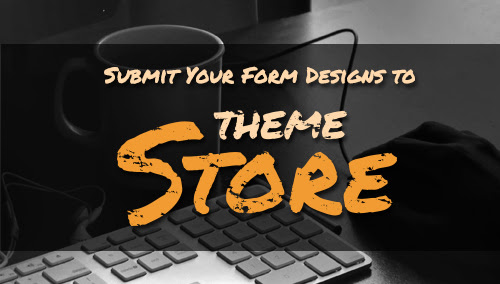 Here's how to publish your forms to the Theme Store.
1. On the
My Themes
page, click
Create New Theme
button. This will open up the Form Designer.
2. Select the form you'd like to add to the store and click Create Theme button.
3. Add your Theme Name and Theme Description then click Next button.
4. Add Keywords and then click Save Theme. If you want to sell your form or use your own screenshot, you can also do those things on this page.

5. That's it! Your form is now published to the Theme Store.
Here is a video tutorial:

Submit your theme today to be among the first themes our users will see when the Theme Store is launched on December 15th.
---
minnichn
(December 10, 2014 at 08:25 PM)

Hi, what a cool idea!

I am having a few issues submitting my theme.

1.) The thumbnail for my form is not ideal. Because my form embeds Youtube, one gets a black screen.
2.) When I try to remove screenshots, I can't. Do you have a recommended size?
3.) Even though I am trying to change the price to $10, it keeps displaying "Free" when I save.

Thanks!
Nick
---
FreeFbliker
(December 19, 2014 at 11:34 PM)

Add login page trick tell me please
---
radanza
(January 07, 2015 at 05:47 PM)

Theme doesn't save if you try to save to private.
---
jmerchan
(January 28, 2015 at 10:09 PM)

having the same problem here, can't save to private
---
ccg
(February 12, 2015 at 08:43 AM)

Also can't save any themes
---
anjusaul
(March 16, 2015 at 08:32 PM)

How can I import my own documents saved on computer into jot form
---
savulski
(March 21, 2015 at 01:04 AM)

I can not access the creator of themes
---
fpalarca
(January 19, 2016 at 02:10 PM)

I don't know where to start... I cloned a website to use for my theme but no idea where can't access that specific theme. I am about to give up.
---
rajkumarvarier
(March 27, 2016 at 11:18 AM)

I want to make counter in the FORM for registering the number of applicants for attending a meeting. I am not able to do that. How to make a counter?