Automate Your Workflow
Set up conditional logic to show or hide form fields automatically, create a custom appointment calendar to receive bookings online, and more. Jotform gives you access to 300+ widgets to help you save time and do more with your forms by automating your workflow.
Go Mobile with Powerful Apps
Collect form data anywhere — even offline — with the Jotform Mobile Forms app. Get form responses in person with our kiosk feature, and access unique form fields like geolocation, voice recordings, and QR codes. Or stay HIPAA compliant with the Jotform Health app for healthcare workers and manage your practice from your pocket.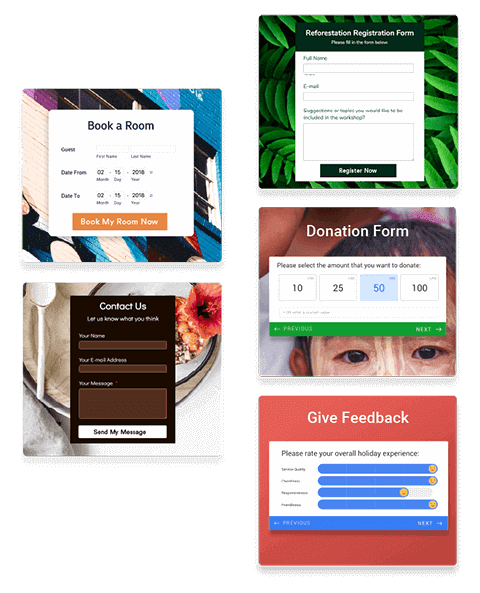 Customize 10,000+ Free Templates
Not sure where to start? Select a free form template and customize it in seconds with our drag-and-drop Form Builder. Whether you're collecting contact information, orders, or consent forms, you're sure to find a template to match your needs.
See More Templates
Power Your Forms with 100+ Integrations
Sync submissions to your other accounts to eliminate manual data entry and save time with an automated workflow. Jotform offers 100+ free form integrations with popular platforms, including Google Drive, Dropbox, Slack, Airtable, Salesforce, and more.
Build approval flows
Turn your custom forms into custom approval flows in one click. With Jotform Approvals, submissions will automatically be sent to approvers for immediate review. When a final decision is made, the form filler will receive an automated email about the status of their submission. As form owner, you can track and manage the approval process from Jotform Inbox and customize the approval flow by adding approvers, notifications, conditions, and more — for free!
Import Your Forms to Jotform
If you're already using 123 Form Builder and want to switch to Jotform, you don't have to start from scratch. Jotform's import tool will move your existing forms over in a couple of clicks.
Migrate your existing forms to Jotform
If you see any incorrect, incomplete or inaccurate information, please request correction by filling the form below.
Request Correction
JOTFORM ENTERPRISE
Get professional solutions with Jotform Enterprise
Discover how Jotform Enterprise can benefit your organization. Automate, collaborate, and scale with ease.