Jotform HIPAA Form Features
Jotform is loaded with powerful features to help you collect and manage sensitive patient information. Check out what makes Jotform a leader in HIPAA-friendly forms.
Create HIPAA forms easily
Build a HIPAA-friendly form with Jotform in just a few minutes. Zero technical skill needed.
Collecting patient data securely
HIPAA-friendly forms mean your sensitive patient data is protected by the highest security and encryption standards.
Schedule Appointments
Arrange medical appointments, schedule calls, receive meeting requests, and arrange interview times through your online forms.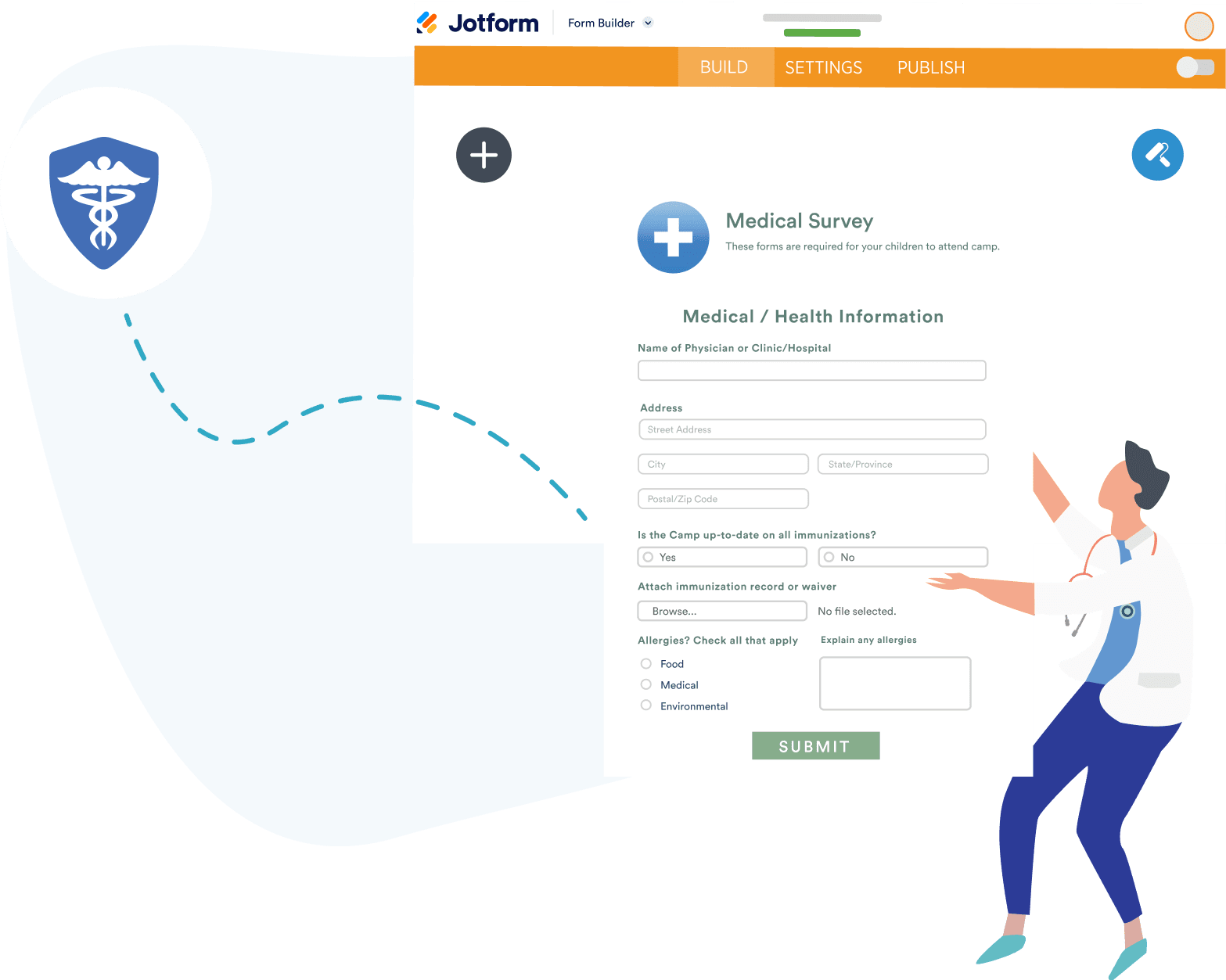 Increase Patient Convenience
New patient intake and consent forms can be completed and submitted online. This reduces office paperwork and patient wait times.
Mobile Friendly
The forms you create with Jotform can be filled out on any smartphone, tablet, or computer. This means your patients can schedule appointments, update their medical history, or register as a new patient from anywhere.
Accept Online Payments
Patients can pay online. With Jotform, you can embed a payment form directly onto your site that integrates with dozens of payment processors, like Square, Stripe, and Authorize.net.
Digital Signatures
Patients can sign forms electronically or send important documentation or images directly through your forms.
File Upload
Patients can upload documents or images through your forms. Plus, these files are stored according to HIPAA standards.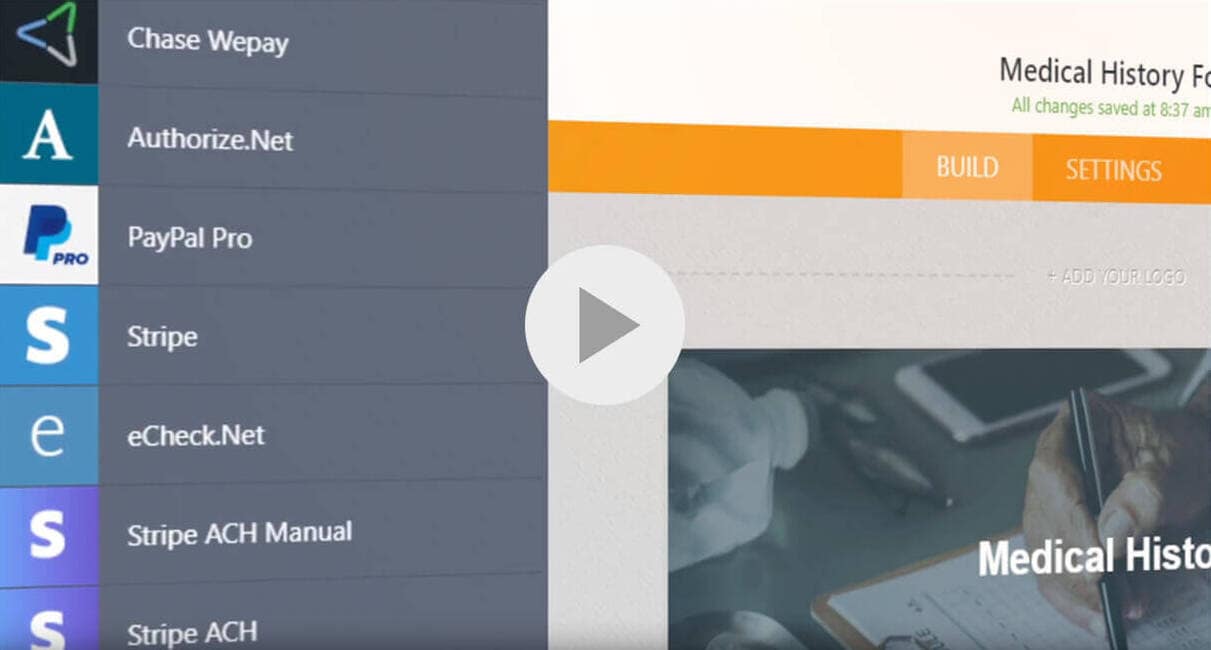 Securely Manage Patient Data
Safely collect sensitive PHI online and store it in a HIPAA-friendly online database with Jotform Tables. Keep medical data secure and organize it in a spreadsheet, view scheduled appointments in a calendar, and see patient contact information at a glance with Card view. Download your table as a PDF to print for your records, or manage your table's privacy settings to safely share it with other medical staff.
Turn Form Data Into
Medical Reports
Gather sensitive patient information and feedback online with our HIPAA-friendly healthcare forms — then use Jotform Report Builder to generate live reports that update automatically. You can also securely share your reports with other medical staff members instantly.
Automate Workflow
Organize your patient data. You can export form data as PDFs and automatically email them to your patients. Or seamlessly integrate with other HIPAA-friendly software, such as Google Sheets.
Integrations
Jotform offers integrations option to increase the performance of your online forms by connecting them with the tools and products your organization currently uses, such as Salesforce and Zapier.
Get Informed Consent Online
Create a custom medical consent form to explain your patient's treatment and get consent with an e-signature. You can even convert each submission into a downloadable, printable PDF document!
Automate approvals with ease
Respond to requests for medical supplies, appointments, and more with Jotform Approvals. Safely collect sensitive patient data through your HIPAA-friendly forms and turn submissions into tasks in an automated approval flow. Send email notifications to approvers and patients automatically, and track requests from any device to make sure no patient is left behind.
Convert PDFs to Secure Online Forms
Improve the patient experience with Jotform Smart PDF Forms. Turn PDF medical release forms, consent forms, patient intake forms, and other healthcare PDF forms into secure online forms that are easy to fill out from any device. Receive responses instantly and share them as PDFs with patients or other medical staff.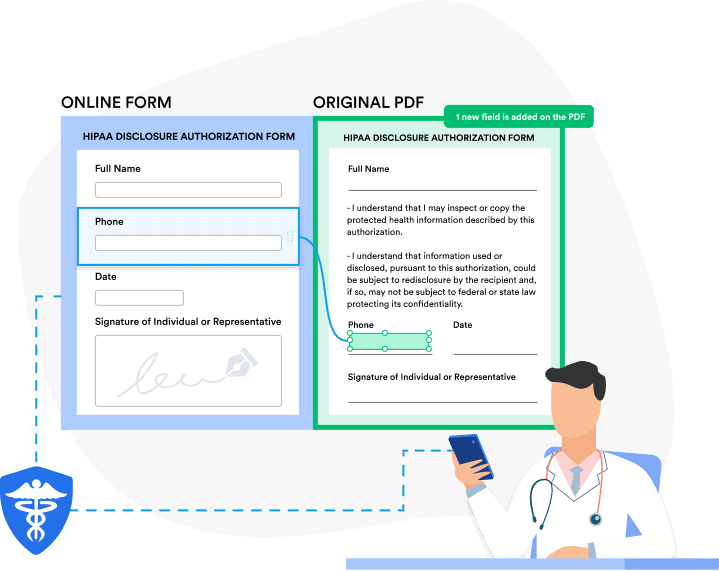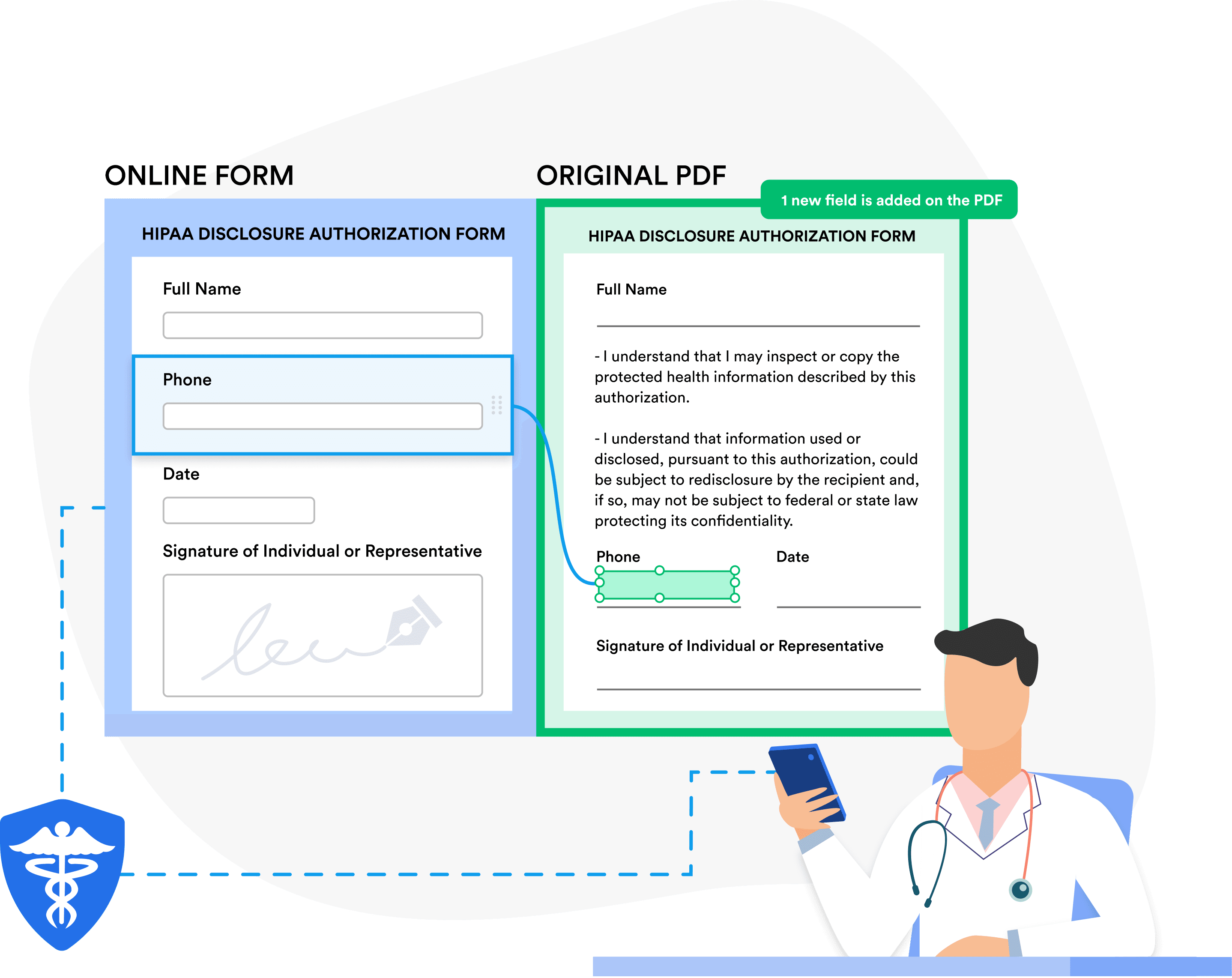 JOTFORM ENTERPRISE
Get professional solutions with Jotform Enterprise
Discover how Jotform Enterprise can benefit your organization. Automate, collaborate, and scale with ease.