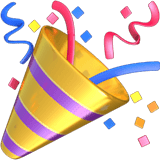 ANNOUNCING JOTFORM SIGN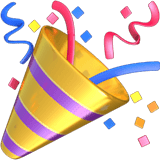 E-signatures meet automation
Create, share, and e-sign documents in minutes using Jotform Sign. Automate your workflow with documents that can be signed on any device.
Send my document for signature
File type is not allowed.
Maximum file size limit exceeded. (5MB)
Something went wrong.
A complete electronic signature solution
Build documents easily
Turn your existing PDFs into e-sign documents in a single click.
Collect signatures
Securely gather signatures anytime, anywhere — without the trouble of messy paperwork.
Automate document processes
Eliminate manual tasks with Jotform Sign's automation features.
Build once.
Send multiple times.
Create and customize your ideal form once and send it as many times as you need. Just add your desired form fields, assign signer roles, and collect signatures with ease. Save time with our flexible build-and-send document structure.
Get Started Now — It's Free!
Upgrade your e-signing process with powerful automation
Automate your e-signing process from start to finish. Add your document and signers to an approval flow — then instantly upload the signed documents to your cloud storage account with our powerful online storage integrations.
Get Started Now — It's Free!
Automate document sharing
Send your document to signers via email, share it by copying and pasting a link, or embed it in your website so users can sign it anytime.
Get Started Now — It's Free!
JOTFORM ENTERPRISE
Take your organization to the next level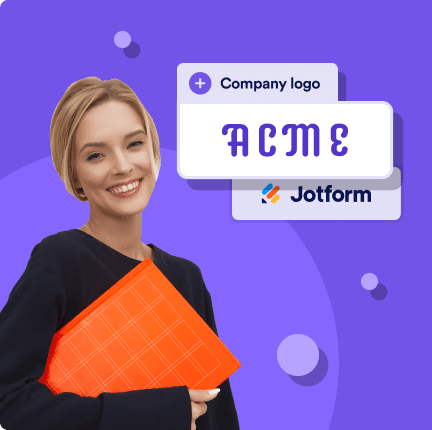 White Labeling
Make your forms match your company branding with Jotform Enterprise. Enjoy a personalized look without having to build your own product from scratch — it's like having an in-house developer at a fraction of the cost!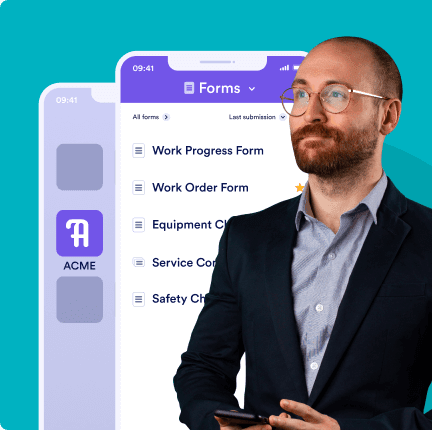 Custom Mobile App
Get the full power of Jotform Enterprise no matter where you work — even offline. Collect important data, get instant push notifications, and access exclusive Jotform Enterprise features with a white-labeled app for your smartphone or tablet.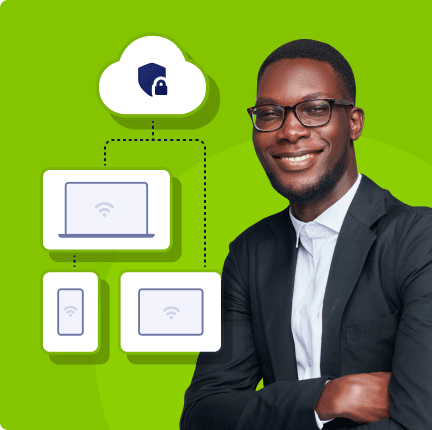 Dedicated Server
Host your online forms and form data on a dedicated cloud server with Jotform Enterprise. Great for businesses and organizations of all sizes. Keep your information secure while collecting form submissions with any device.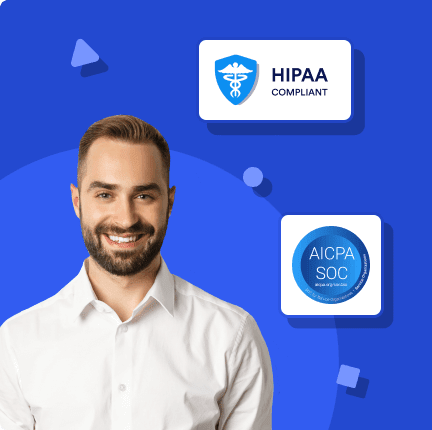 Highest Security
Jotform Enterprise provides the highest industry standards, including SOC 2 Type II compliance, to help protect your information. All form data is stored on dedicated servers, encrypted by 256-bit SSL, and protected with PCI DSS Level I compliance and optional HIPAA compliance. You also have the option to store data within the EU.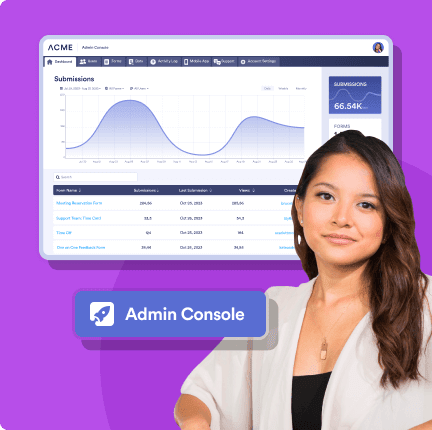 Enterprise Admin Console
Control who can access your forms and submissions with Jotform Enterprise's customizable permission settings. Add members of your team as Users or Admins to work together while you stay in full control of your data.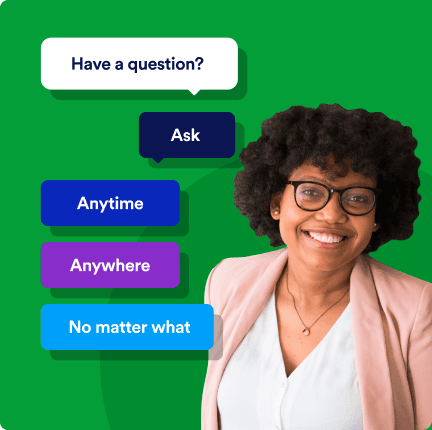 Dedicated Support
Move to the head of the line and get fast customer support. Our Enterprise Support Team is available during standard business hours to answer any questions you may have.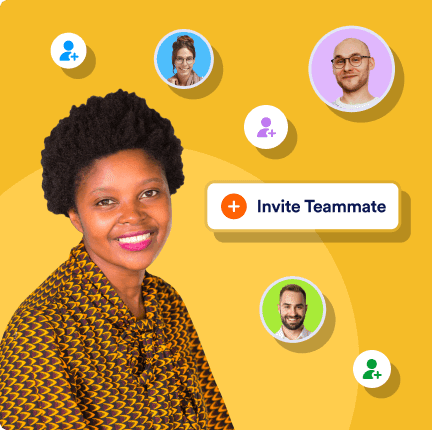 Multiple Users
Work as a team while staying in control of your data. With Jotform Enterprise, you can create user accounts to grant form access to other departments, colleagues, or clients — so you can collect data, send notifications, and follow up on submissions together.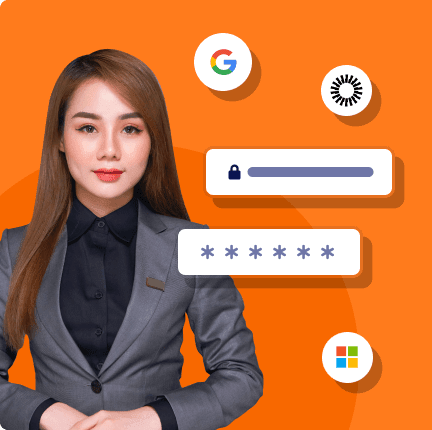 Single Sign-On (SSO)
Jotform works with Enterprise customers and their Single Sign-On (SSO) providers so employees can access and manage their forms using a single set of login credentials. Jotform Enterprise supports SAML 2.0 and integrates with SSO solutions from providers such as Microsoft, Google, Okta, Duo, OneLogin, and more.
Contact Sales
Get more done with Jotform Sign Inbox
Stay on top of your document's status with Jotform Sign Inbox. You can get instant notifications about signer actions, send reminder emails, download signed documents, and much more from one central location.
Get Started Now — It's Free!
Analyze and visualize your document data
Organize and manage data compiled from your documents in the way that works best for you with Jotform Tables. You can also convert data into professional-looking reports to uncover new business insights and make informed decisions with Jotform Report Builder.
Get Started Now — It's Free!
HOW TO USE JOTFORM SIGN
Send and Sign Documents in Minutes
DISCOVER WHAT USERS THINK OF JOTFORM SIGN
I have been a long-time Jotform user and continue to be impressed with how the products continue to evolve. I use every aspect of the Jotform platform and it's revolutionized the way I do business. I will continue to be a Jotform evangelist!
Nasser Jones
E-signatures meet automation
Electronic Signature
A Brief Guide to Electronic Signatures
What is an electronic signature?
An introduction to electronic signatures
An electronic signature, or e-signature, is the digital equivalent of a handwritten signature that indicates the acceptance of an agreement, contract, or other document. Electronic signature technology allows users to approve or certify documents without having to sign a physical piece of paper.
E-signatures are as legally binding as any other type of signature in many countries. They also allow you to avoid the hassle of passing paper documents from one person to the next. As a modern approach to the signing process, e-signatures are now used in all kinds of documents worldwide.
Types of electronic signatures
There are several ways to add signatures to digital documents, from scanning and uploading an image of a handwritten signature to using specific e-signature software. With services like Jotform Sign, users can securely sign documents with just one click.
There are four basic types of electronic signatures: click-to-sign, simple e-signatures (SESs), advanced e-signatures (AdESs), and qualified e-signatures (QESs). Each has its own advantages and use cases, so it's important to know which situations they work best for.
Click-to-sign


Click-to-sign electronic signatures can be completed with just the click of a button. Typically, a user will create a signature that is stored for future use by a software platform, or the platform will generate a signature for them. Then, as the user moves through a document, they can click a button to insert their legally binding signature where needed.

Simple electronic signatures


Simple e-signatures (SESs) are the most widely used because they don't involve any type of advanced identity verification and can be as basic as a name or initials typed in a document. They can be used on all kinds of documents, from internal employment agreements to attendance sheets to permission slips.

Advanced electronic signatures


Advanced e-signatures (AdESs), on the other hand, implement a higher level of identity verification, as they are usually transmitted through e-signature software that can provide an audit trail. They are certified by a certificate authority (CA), an entity that issues and stores unique digital certificates to confirm a person's identity.

Qualified electronic signatures


A qualified electronic signature (QES) is the most secure form of electronic signature and meets the requirements outlined in the European Union's electronic Identification, Authentication and Trust Services (eIDAS) regulation. This type of e-signature verifies the signer's identity through a digital certificate. As an additional step, the signer's identity is confirmed face-to-face — either online (via video) or in person.
The evolution of electronic signatures
While the general public has only become familiar with electronic signatures in the past 20 years, the technology has been developing for much longer than that. The concept of electronic signatures was first introduced in 1976 by American cryptologists Whitfield Diffie and Martin Hellman in a research paper titled "New Directions in Cryptography," which presented forward-thinking ideas like public-key cryptography and digital signatures. Then, in 1977, Ronald Rivest, Adi Shamir, and Len Adleman invented a cryptosystem called the RSA algorithm that was the first technology to transmit a signature through an electronic message.
The first widely marketed software to offer digital signatures broke onto the scene in the late 1980s, followed by the first instance of embedding digital signatures into PDFs in 1999. In 2000, U.S. President Bill Clinton passed the Electronic Signature in Global and National Commerce (E-sign) Act, which made digital signatures legally binding.
In 2008, ISO 32000 made the PDF a standard electronic document format and included guidance on how digital signatures in PDFs can be used to verify a signer's identity. Since then, PDFs have been the primary tool for signing documents online, and e-signature technology has taken hold around the globe.
Electronic signature vs digital signature vs wet signature
While most people know a wet signature from an online signature, the difference between an electronic signature and a digital signature is a little tougher to spot.
Wet signatures have been used for thousands of years. A wet signature refers to a pen-and-ink signature on a paper document. Historically, it was one of the only ways to create a binding document. Wet signatures are still required for certain sensitive documents, such as court orders, wills, and trusts.
The electronic signature, a generic term for any signature that is transmitted electronically, emerged alongside computer technology. E-signatures work great for documents that don't require stringent security measures, and they can be as simple as a typed name or initials in a digital document.
However, when you're working with a document that is covered by privacy regulations or other specific laws, you'll want to use a digital signature. A digital signature uses specialized features and backend tools like encryption and audit trail capabilities to ensure that the signer's identity is properly authenticated and the document has not been altered. Digital signatures work best for government, legal, and healthcare documents, like tax and insurance forms.
There are also subtypes of digital signatures, such as cloud signatures. With cloud signatures, the digital certificate used to authenticate the signature is stored in the cloud. These signatures provide much more flexibility because they allow users to sign on any device.
The legality of electronic signatures
A number of countries have enacted specific legislation to recognize the validity of e-signatures. In the United States, electronic signatures are legally binding under the federal Electronic Signatures in Global and National Commerce (E-Sign) Act. Almost any document that can be signed by hand may also be signed digitally in the United States, with the exception of certain governmental or legal documents that still require wet signatures. Versions of the Uniform Electronic Transactions Act (UETA) govern e-signature specifications in different states, and U.S. territories have their own e-signature laws as well.
E-signatures are also considered legally binding in Australia under both the Electronic Transactions Act (ETA) of 1999 and the Electronic Transactions Regulations 2000 (ETR); in the European Union and U.K. under eIDAS; in Canada under the Personal Information Protection and Electronic Documents Act (PIPEDA), and in New Zealand under the Contract and Commercial Law Act (CCLA).
These are just a few examples of countries with e-signature laws. Research local regulations to ensure that e-signatures are legally binding in a specific country.
How secure is an electronic signature?
Electronic signatures are extremely secure — in fact, they're generally more secure than pen-and-paper signatures. Wet signatures can be forged, and paper documents can be lost, damaged, or destroyed over time. Electronic signature software, on the other hand, is supported by advanced security practices such as encryption, digital certificates, and cryptographic algorithms that record audit trails and prevent signature tampering. Unlike paper documents, files with electronic signatures can be archived and kept safely for as long as needed without the risk of being damaged or lost.
How do electronic signatures work?
An electronic signature, or e-signature, is a digital form of a traditional ink signature. There's no physical pen or paper involved, and it is a much more convenient and cost-effective way to sign.
A digital signature is like a digital fingerprint: It's unique to each user. Digital signatures use a public key infrastructure (PKI) to authenticate and encrypt data and signatures as they are transmitted. PKI creates and generates two long sequences of numbers, also known as keys, that create a time-stamped digital signature that is completely unique to the signer.
To learn more about how e-signatures work, check out this interesting piece on our blog.
The benefits of using electronic signatures
Electronic signatures are extremely beneficial to businesses and individuals. Not only do electronic signatures dramatically cut down the time and effort involved in collecting signatures, but they also allow users to organize and keep track of signed documents more easily.
Here are just some of the many benefits of incorporating electronic signatures into your business processes.
Automation
Waiting for people to sign and forward documents to the correct parties can be a drag — not to mention that it wastes precious time you could be using to further develop your business. Electronic signature software makes document creation and signature collection a breeze because it automates the process of distributing, signing, tracking, and storing e-sign documents among multiple parties. Plus, with a platform like Jotform Sign, you can also collect payments, use templates, access 100-plus third-party integrations, and more.
Security
Electronic signatures are highly secure because they typically use digital certificates and encryption to verify the signer's identity. While digital recordkeeping methods are generally reliable, they are still subject to risks like data breaches, identity theft, and fraud. That's why there are a number of security standards and methods in place to protect users, such as eIDAS, the E-Sign Act, two-factor authentication (2FA), encryption, time-stamping, biometrics, and more.
Cost-effectiveness
The costs of paper and ink involved in collecting physical signatures add up over time — as do the number of employee hours it takes to manually distribute and track documents. By taking your signature collection process online, you'll be saving time and money.
Flexibility
By automatically forwarding documents to signers online, you won't need to find times to meet face-to-face. With Jotform Sign, your signers can sign your documents anytime, anywhere, on any device, which makes the whole process easier for everything. You can instantly send documents via email, link, or file-sharing services for the quickest possible turnaround.
Less environmental impact
Eliminating the need for materials like paper and ink doesn't just save you money; it's also a more energy-efficient alternative. When you need to collect signatures from around the world, your carbon footprint goes up dramatically with shipping and processing. Electronic signatures help your company lower its overall environmental impact by allowing signers to receive documents right in their email inbox.
Transparency
When working with a physical document, it can be difficult to know where it is in the signing process — or where it is at all. With an e-signature platform like Jotform Sign, you can track and manage your document status at any time, right from your account. Plus, you can create shared workspaces so your colleagues can track documents alongside you with Jotform Teams.
Who uses electronic signatures?
How to create an electronic signature