Mobile Forms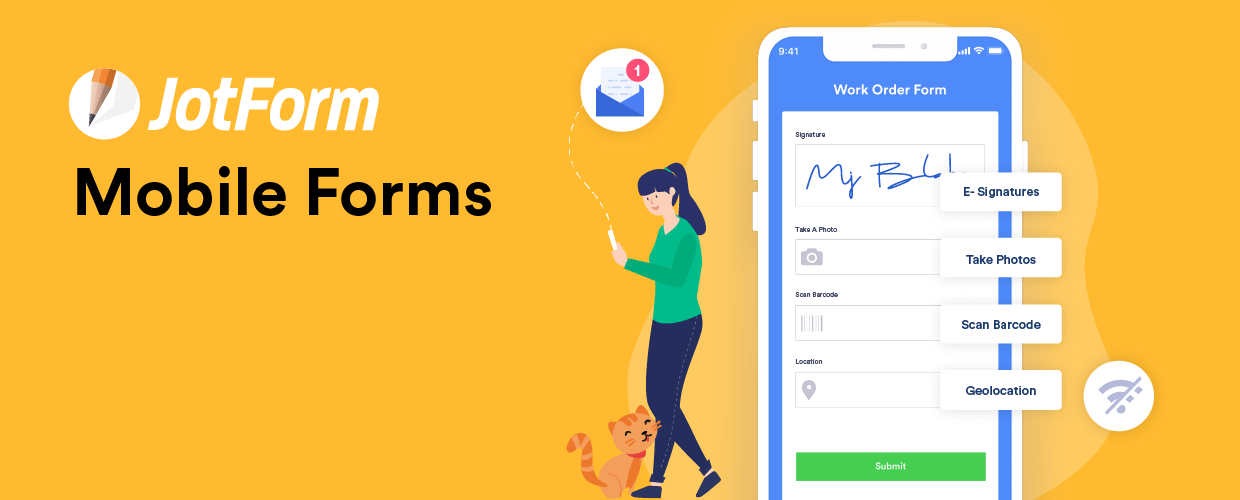 Building forms and accessing submission data on your computer is great, but why not supercharge your data collection and take your forms with you?How do you do that? With the JotForm Mobile Forms app, of course. Let's begin!1. JotForm Mobile...
Creating your first form with JotForm Mobile Forms is very similar to creating a form on the desktop version. With our new app, you can now create forms on the go. How do you create a form with Jotform Mobile Forms? Follow these ste...
We're excited to introduce a new great feature included in our reinvented mobile app — kiosk mode. You can use this feature on a smartphone or tablet, whether you're online or offline. Kiosk mode is available for both iOS and Andr...
Imagine the convenience of taking and uploading a photo to a form without leaving the form. Thanks to JotForm Mobile Forms, you can do just that.When creating your form, add the Take Photo widget. Although you can use other File Upload field...
JotForm Mobile Forms allows you to customize your form notifications so that you can get a notification as soon as someone fills out your form, or not.Mobile Forms Notifications Settings :1. In My Forms, press on the cog button (gear like icon) to op...
In Jotform Mobile Forms, you can add fields to your form for recording audio and video just as you would in the desktop version. Here are the steps you need to follow to create a form that will record audio:1. Tap the + icon at the top-left ...
It's possible to save out a PDF of your Submission Data from within our Mac App which you might find useful if you wish to keep your submissions as a PDF record.(1) To do this simply Open up the JotForm Mac App.(2) At the very top toolbar in the far ...
You may need to record GPS coordinates on forms such as incident reports, order delivery forms, and more. You can now do this with JotForm Mobile Forms.There are three widgets you can use to capture location information:Location CoordinatesGPS Locati...
You've logged into your JotForm account through the app. Now what?  There are quite a few features packed into JotForm Mobile Forms, so we've created this guide to help you out.If you haven't downloaded, installed, and synced the a...
Sometimes you might be on the go and you probably don't have your computer with you but with all things considering you most likely have your phone or tablet with you.In such cases and for some reason if you are that one person that you want to show ...