Secure Payment Collection
Churches rely on generosity, so make it easier for people to support your church by accepting donations online. With 30+ payment gateways, including Square, Stripe, and PayPal, you can offer multiple ways for church members to donate to your cause. Jotform also offers recurring payments and protects payment data with PCI and PSD2 compliance, even on our free plan.
Advanced Form Builder
Create online forms worthy of praise with our drag-and-drop Form Builder. Without doing any coding, you can easily create a form that looks and works just how you want it to. Whether you need to collect electronic signatures, set up conditional logic, disable duplicate submissions, or add unique form widgets, you can make your form stand out in just a few clicks.
Powerful App Integrations
Not only does Jotform enable you to collect information online, it also lets you sync it to your other accounts automatically. Our 100+ free integrations — including Google Sheets, Google Drive, Dropbox, Mailchimp, Zapier, and more — help you automate your workflow and spend more time where it matters.
Nonprofit Discount
Bronze, Silver, and Gold Jotform plans are 50% off for eligible nonprofit organizations — that's half off our regular price to create more forms, accept more submissions and payments, get HIPAA compliance, and more!
DATA COLLECTION
Collect Different Types of Data
With a wide range of powerful widgets, integrations, and form fields, you can collect photo and video uploads, spreadsheets, and more — then sync them to your other accounts or instantly view them as reports or PDFs. And Jotform Mobile Forms, our free mobile app, even allows you to collect and view submissions without internet access!
Security You Can Trust
Put your faith in Jotform. Your forms and accounts are protected by PCI compliance, GDPR compliance, spam protection, and other advanced security measures, so churchgoers can rest easy knowing that the data they submit through your forms is safe. You also have form encryption and HIPAA compliance options to add an extra layer of protection.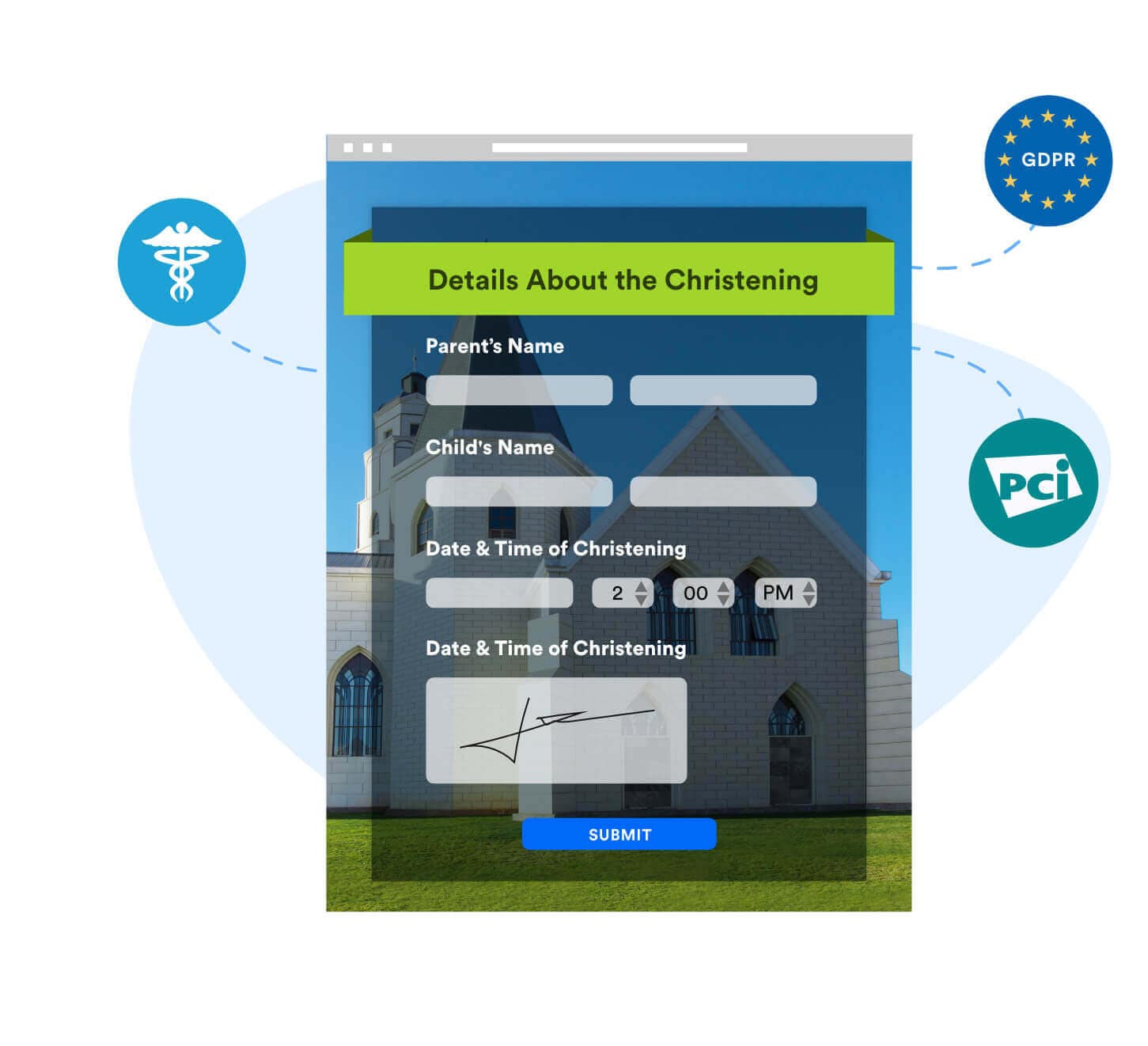 Receive PDF Form Responses Online
Turn your PDFs into online forms with Jotform Smart PDF Forms. With options to change the font size and color, you can provide a better experience for your churchgoers by letting them fill out easy-to-read forms on any device. Collect form responses online to keep data secure, easily share the form or embed it in your site, and seamlessly manage important information for your church.