Easy to Embed in Your Website
Build online forms that look and work exactly the way you want them to — then add them to Squarespace in seconds. You won't need to do any coding to embed a Squarespace contact form, signup form, feedback form, or registration form in your Squarespace website. You can even add it as a feedback button, popup, or lightbox! And why stop there? Spread the word about your site by sharing forms via email or social media in just a few clicks.
Beautiful, Professional Design
Impress site visitors with custom Squarespace forms that look just as good as your website. Our drag-and-drop Form Builder lets you create Squarespace forms from scratch or customize 10,000+ free form templates without doing any coding. Power up your Squarespace forms with advanced features, widgets, and integrations.
Protect Your Data
When you embed forms on Squarespace, your data is still protected by Jotform's advanced security measures — 256-bit SSL, optional form encryption, PCI, GDPR, and CCPA compliance, and a HIPAA compliance option for medical organizations.
Collect Photos, Videos, and Documents
Collect photos, videos, PDFs, and other files directly through your website with a file upload field. You can even automatically send files collected through your Squarespace forms to cloud storage platforms like Google Drive, Box, or Dropbox!
Send Submissions to Other Apps
Power up your workflow by automatically sending form responses, file uploads, and generated PDFs straight to your other accounts with our 100+ apps & integrations. Create spreadsheets in Google Sheets, add leads to CRMs like Salesforce or HubSpot, process payments via Stripe or PayPal, or send form data to your team in Airtable, Slack, or Trello. Collect e-signatures, add CAPTCHAs, and more.
Advanced Conditional Logic
If you need an online form that goes a bit further, you can easily create conditional forms for Squarespace with our drag-and-drop Form Builder. Show and hide form fields and questions based on a user's previous answers, giving them a personalized form-filling experience and boosting your form completion rates.
How to embed Squarespace forms with Jotform
Adding a form to your Squarespace website is easy! Join us in this short video tutorial to learn how to embed Squarespace forms with Jotform — and start seamlessly collecting contact info, registrations, payments, and more.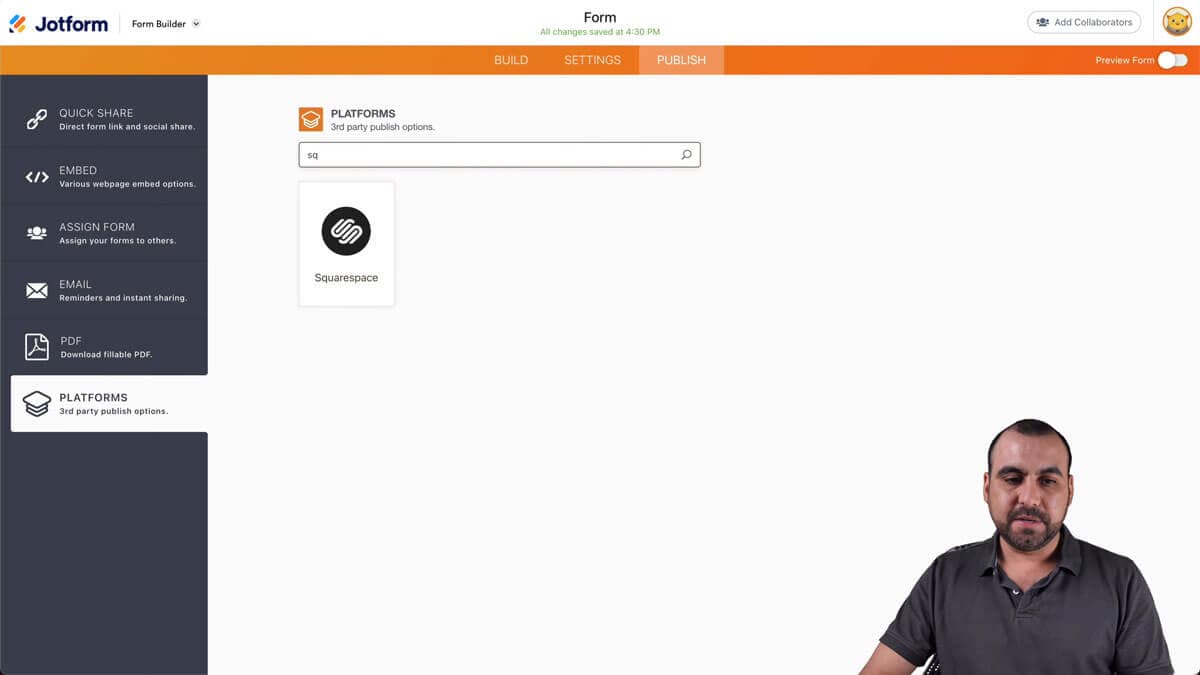 TESTIMONIALS
What our users say about Jotform
If you know Squarespace pretty well and if you know Jotform enough you can make custom projects. Both of them are cheap and easy.