Google Earth is used when you want to explore rich geographical content, want to see satellite images, maps, landscapes, 3D buildings or view satellite images from galaxies in outer space. It also lets you search the whole planet within seconds without requiring you to leave your comfortable room. You can search for anything on this planet whether it is a building, a landscape or anything else, Google Earth will help you. In this post we have collected some bizarre and interesting Google Earth photos, we hope they will impress you.
Just so you know
Sign up for a free Jotform account to create powerful online forms in minutes — with no coding required.
Google Earth Photos
Marriage proposal seen on a rooftop via Google Maps.
Stitching together satellite pix and aero pics of cities can result in situations like this where the different aerial vantage points result in buildings' pictures being taken at different angles. Once stitched together, the taller buildings at the edges of each of the pictures appear to be leaning toward or away from one another at pronounced angles.
Site of an extinct volcano crater, the Cerro Prieto, located near Mexicali in Baja California (Mexico). Apparently, a lot of visitors to the site have decorated it with their graffiti, drawn huge enough to be seen from high above. The graffiti appears to have been drawn with the intention to be seen by people looking down into the crater from the eastern rim of the crater. Here's a closeup shot of it, taken from the ground.
Think parking is tough where you live? In Westenbergstraat, Netherlands, drivers apparently have to park on the sides of walls.
As we all know, the general theory of relativity states that a black hole is a region of space from which nothing can escape – including light. Astronomers have identified lots of places where black holes may exist, but apparently they missed one – about 60km north of Tokyo.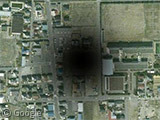 The 130,000 square yard islet of Galesnjak came to prominence after its unusual shape was highlighted on Google Earth.
This blood-red lake outside Iraq's Sadr City garnered a fair share of macabre speculation when it was noticed in 2007. One tipster told the tech blog Boing Boing that he was "told by a friend" that slaughterhouses in Iraq sometimes dump blood into canals. No one has offered an official explanation, but it's more likely that the color comes from sewage, pollution or a water-treatment process.
The shapes and colors of the dunes in this desert are amazing. Notice that the three dunes have almost identical shapes. And there are tens of thousands just like those all around.
The terrain in Alberta, Canada accidentally forms what looks like a human face when viewed from the air or when viewing the satellite pic in Google Maps.
The Osmington White Horse, outside Sutton Poyntz, UK. This prehistoric figure is carved into the white chalk of the hillside – such horse carved shapes are called "Leucippotomy".
Here's another weird satellite pic from Google Maps of some downtown Houston skyscrapers. This effect has become known as the "Escher Effect", or the "Google Escher Effect".
Land Art or "Earth Art" appearing in a field near the airport in Munich, Germany.
Yum! Brands Inc created the logo near Rachel, Nevada, and claimed it's the first ad that can be seen from space. If you recall, the same company had previously wanted to beam a laser ad up onto the moon for Pizza Hut, but had later scaled back to buying ad placement on the side of a Russian rocket.
Crop circle art made in the shape of the iconic Firefox Logo near Portland, Oregon.
Canadian artist Melanie Coles built a large image of the iconic "Waldo" onto a rooftop at an undisclosed location in Vancouver, British Columbia, Canada.
Giant Pink Bunny created by a group of artists near Artesina, Italy.
This Coca-Cola logo in Google Maps was apparently created out of coke bottles just outside of Arica in Chile.
Out of some sort of fear that they might forget who he was, the people of Mongolia have carved the likeness of Ghenghis Khan onto a hillside outside of Ulaanbaatar.
Leonardo da Vinci's Vitruvian Man – one of the world's most recognizable illustrations – is rendered here in crop art in Germany.
The Palm Islands are artificial islands in Dubai, United Arab Emirates on which major commercial and residential infrastructure will be constructed. They are being constructed by Nakheel Properties, a property developer in the United Arab Emirates, who hired Belgian and Dutch dredging and marine contractor Jan De Nul and Van Oord, some of the world's specialists in land reclamation. The islands are the Palm Jumeirah, the Palm Jebel Ali and the Palm Deira.
She's got a massive syndicated show and a magazine called O, and she was dubbed the most powerful celebrity in the world by Forbes. Why shouldn't Oprah get her own corn maze? An Arizona farmer created this 2004 tribute to the TV talk-show host.
Without a doubt, the best thing that ever happened to crop circles is Google Earth. This circle in the desert just outside Beatty, Nevada.
Roof ad seen via Google Maps in New York City, apparently for a "Roller Skating" rink.
Likely intended to target LaGuardia Airport passengers, but many rooftop ads like this are starting to provide impressions through users of Google Maps and other popular online mapping systems which include aerial photos and satellite photos.
Written in the sands of the Atacama Desert, Chile, are the words "ni pena ni miedo" which translate more or less as "No shame nor fear", and together they form what must surely be the world's largest poem.
Giants have a hard time getting clean. I mean, baths aren't usually built big enough to fit your average giant, right? Which is the only sensible explanation as to why there's a giant sitting in the Guadalquivir river in Córdoba, Spain.
This is a very strange picture from Google Maps satellite picture of downtown Dallas. The rounded top building in the upper middle is the JPMorgan Chase Tower. Next to it is the tall rectangular 2100 Ross Avenue building (dead center). Catty-cornered from those two on the left side is the pointy-topped Trammell Crow Center which appears to be leaning at a sharp angle compared with the other buildings.
This maze in the UK was made to celebrate Brunel's 200th birthday.
Effigy Tumuli, by Michael Heizer, are a few different land art pieces built on Buffalo Rock in Buffalo Rock State Park, overlooking the Illinois River. (Built between 1983-1985) The animal shapes are barely visible now from satellite pics, though you can see the beetle or roach shape outline in this screengrab.
Karl's Maze in Purkshof, Germany. Since 1921?
This article is originally published on Jul 19, 2010, and updated on Jan 25, 2023.