NONPROFIT
The easiest way to help manage your Nonprofit Organization
Jotform Enterprise is the leading web form building platform for nonprofit organizations all around the world - from large multinationals to the local YMCA. Jotform Enterprise is easy to use and requires no knowledge of computer coding or programming. You can create beautiful, customized forms that meet your needs, with response data securely stored online. As a nonprofit organization, you're also eligible for a 30% discount on Jotform Enterprise*.
Jotform Enterprise is trusted by leading nonprofit organizations around the world.
Nonprofit Form Templates
Jotform Enterprise lets you build a form in minutes. If you want to get a head start, browse our collection of free nonprofit form templates. Once you get started, you can make your forms intelligent with features such as conditional logic so your forms can display additional fields depending on responses.
Volunteer Registration Form
SECURITY
Maintain Privacy
Collecting information from volunteers, staff, and others has always been a challenge. Plus, once you have the data, you want to keep it private. Jotform Enterprise makes it easy for anyone in your organization to create a custom form, and collect data in a manner that is safe and secure. Plus, your data is stored on a dedicated server, and you have complete control over who has access to your forms and data. If you require volunteers or staff to provide sensitive health information, or if you just want an extra level of security, Jotform Enterprise also offers HIPAA compliance. Accepting online payments or donations? Jotform Enterprise includes PCI Level 1 compliant, the same online security used by banks. With SOC 2 compliance, you can sure best practices are in place to prevent, detect, and repair any threat to your data's security.
Contact Sales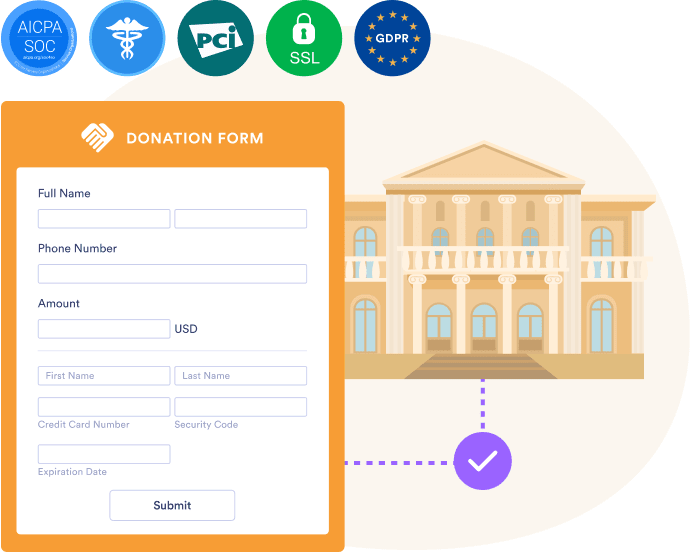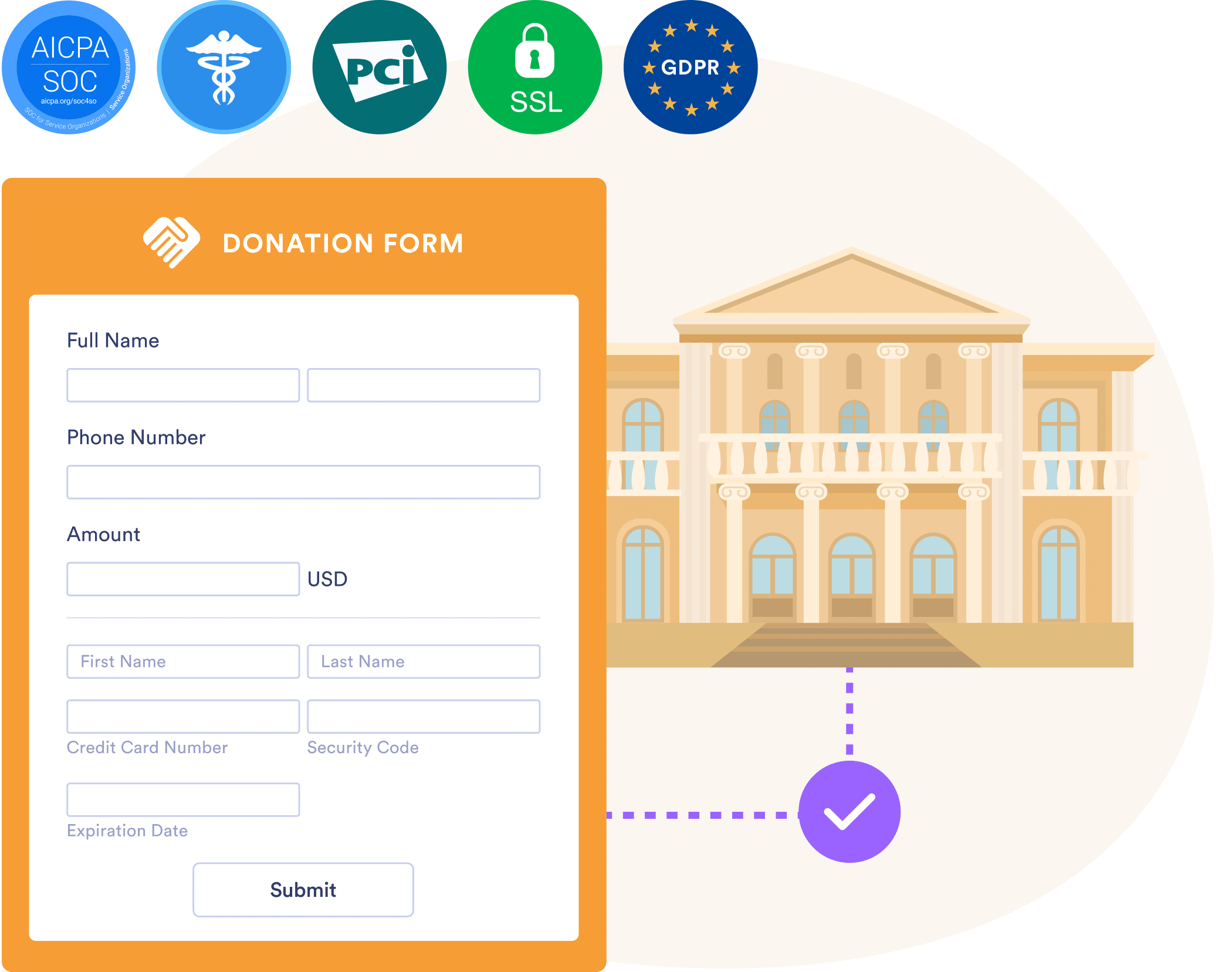 EASY TO USE
Business Management
Nonprofit organizations are a business, and every day presents new challenges. Collecting information quickly is probably at the top of that list. When you get rid of old fashion paper forms and move to online digital forms, you'll instantly improve and automate the flow of your organization's information. Plus, digital forms are mobile friendly, easy to incorporate into an offsite kiosk, and they can even be completed offline. Jotform Enterprise also includes integrations with popular business software, which helps streamline your workflow.
FAST AND EFFICIENT
Event Management
Thanks to Jotform Enterprise's industry-leading drag-and-drop form builder, anyone can quickly build a volunteer registration form, create an event survey, or design a payment form for tickets or donations. In just a few minutes, you'll be creating and publishing forms online using your own website URL. Once you get started, you'll discover there's unlimited ways you can use Jotform Enterprise.
HELP YOU MANAGE
Administrative Tools
Managing your nonprofit organization includes a lot of moving parts. Your staff could be asking for vacation time, event tickets need to be sold, volunteers scheduled, or you want to simplify your internal approval process. Plus, Jotform Enterprise includes incredible reporting and data analysis tools to help you review and understand your data. Your reports are updated instantly as new form submission data is received.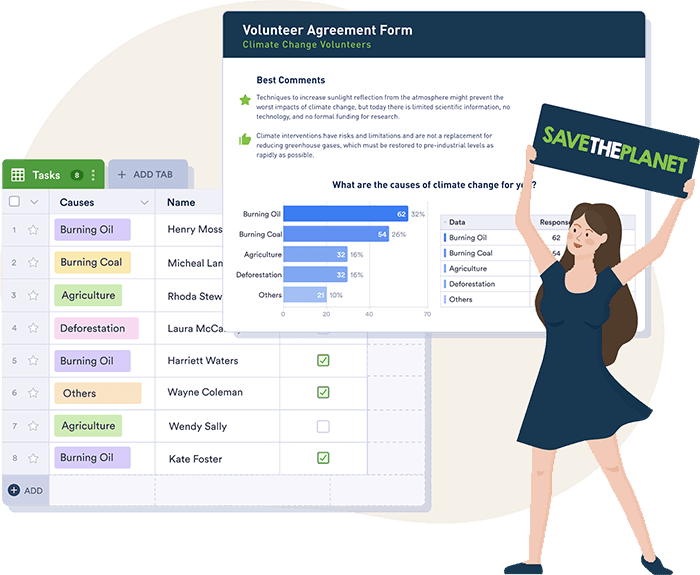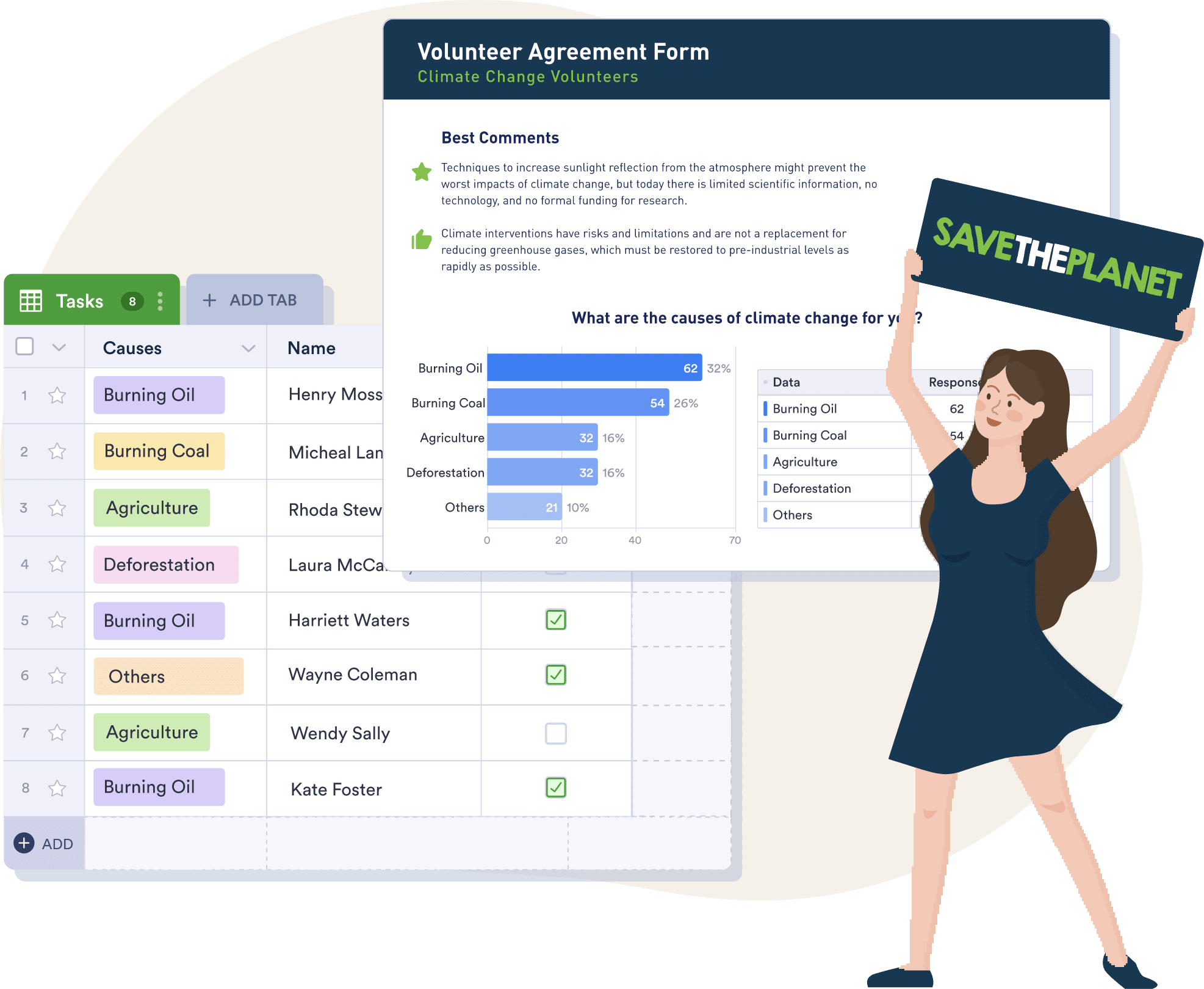 DESIGNED FOR YOUR WORKFLOW
Integrations
Jotform Enterprise includes integrations with popular software tools that help you manage your workflow. These integrations include everything from CRMs and cloud storage solutions to payment processors and project management boards! Then, when your staff, a volunteer or a donor fills out your form, the submission information will automatically appear in your other online accounts based on your integration settings.
Check Out How Nonprofits Use Jotform Enterprise
Created a form to help with the day-to-day operations of their retail store.
Boy Scouts of America (United States)
Designed a conflict of interest form for consultants and vendors.
Agropolis Foundation (France)
Published a travel authorization form for people who want to participate in the 2021 Australian Open tennis tournament.
Tennis (Australia)
Launched a health screen form for volunteers during the 2020 United States election.
Unite Here (United States)