HEALTHCARE
The easy way to collect sensitive patient information
Healthcare providers require additional security to protect sensitive patient information. Jotform Enterprise offers a HIPAA-compliant option that makes it easy to create online digital forms and keep patient information private.
Jotform Enterprise is trusted by healthcare providers around the world.
Healthcare Form Templates
Jotform Enterprise lets you build a form in minutes. If you want to get a head start, browse our collection of free healthcare form templates.
HIPAA COMPLIANT
HIPAA and Security
Collecting patient information has always been a headache. Jotform Enterprise makes it easy for anyone in your organization to create a HIPAA-compliant form, and the forms improve the patient experience. Using our HIPAA feature, your form data submissions are encrypted to ensure patient information stays safe. Your patient data is also stored on a dedicated server with added SOC 2 Compliance, and you have complete control over who has access to your forms and data. If you're accepting payments, Jotform Enterprise includes bank-level security.
FAST AND EFFICIENT
Practice Management
Managing a medical practice is hard work. Make your practice run faster, efficiently and meet privacy regulations by having your patients and employees complete necessary paperwork online.
When you get rid of paper forms and move to digital forms, you'll instantly improve and automate the flow of patient information. Plus, patients can complete any forms from any location, check-in for an appointment, and submit their health insurance information. Jotform Enterprise also includes integrations with popular business software, which helps streamline your workflow.
EASY TO USE
Patient Onboarding
Onboarding a new patient requires several steps. Not only are you collecting information about the patient's health history, you're also collecting insurance and payment information, and consent for treatment, as well. Your patients can also upload important documents, including photos. Jotform Enterprise helps you get rid of the mountain of paper forms and digitize this process, and allow your patients to complete the forms anywhere.
ATTRACT USERS
Marketing Your Practice
Building your healthcare practice is one of the most exciting, and intimidating, activities you'll manage. From attracting new patients, making people aware of new services and treatments, to ensuring patients have a positive experience, there's a lot of items you need to handle.
Jotform Enterprise makes it easier by providing you the tools you need to create, distribute and tabulate patient satisfaction surveys. When you create a contact form, it's the first step in building and managing your patient mailing list. Additionally, you can make it easy and convenient for patients to schedule appointments online.
TELEMEDICINE TOOLKIT
Helping you Treat Patients
You have your medical toolkit ready to help those in need — but what about your telemedicine toolkit? Using the Jotform Enterprise HIPAA-compliant telehealth platform, you can easily create online medical forms that keep sensitive patient health data safe. Learn about the powerful features that make Jotform Enterprise the ideal software for medical professionals.
E-SIGNATURES
Automate Signing Processes
Streamline your e-sign process with Jotform Sign. Not only can you track the signing process from start to finish, you can also set up specific automation tools to help manage your clinic or hospital more efficiently. Set up a signing order for your document. Once an individual has signed, your document will be sent to the next party until all have signed. Then everyone will receive a copy for their records.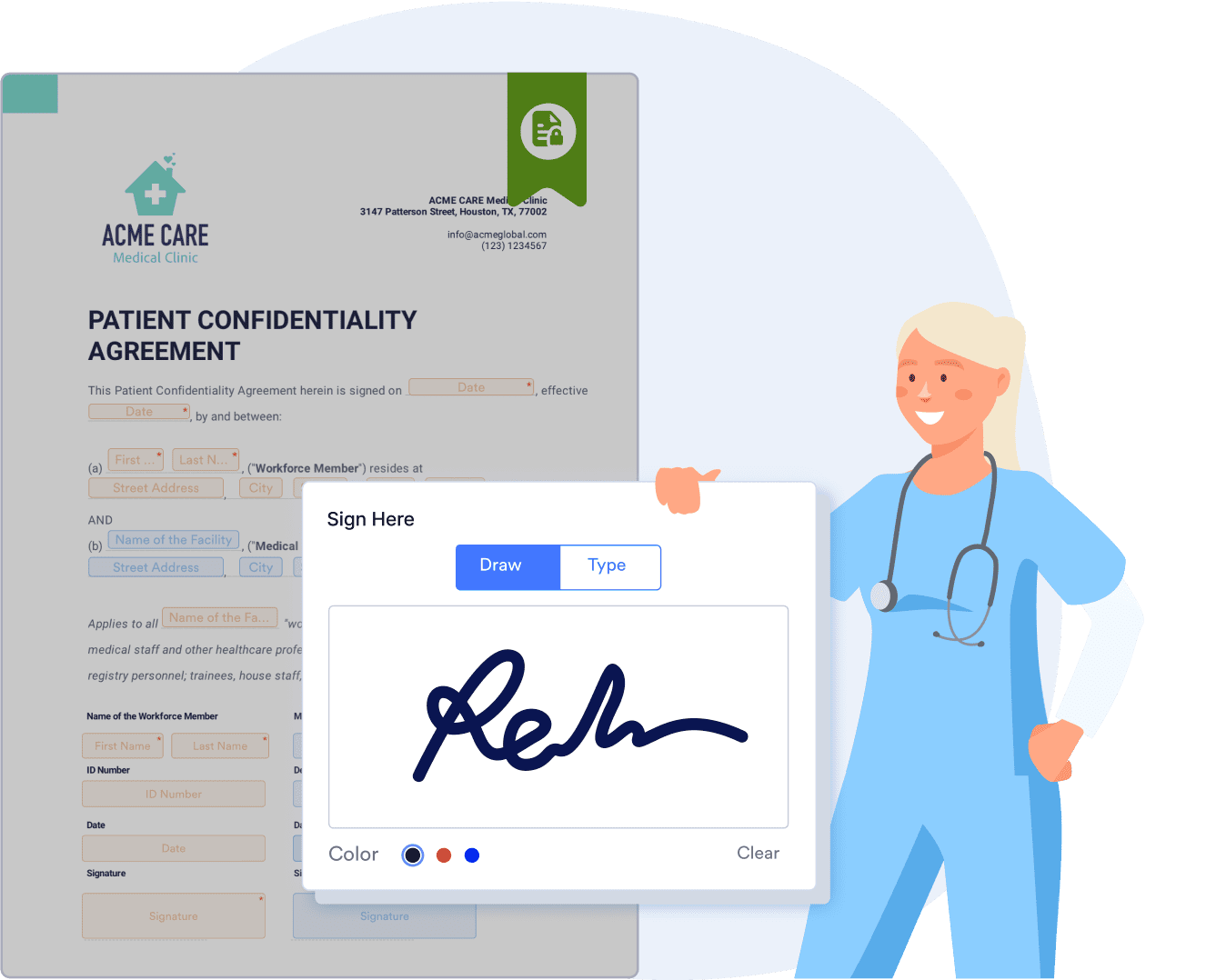 Learn how healthcare providers use Jotform Enterprise
Created a Diet Requisition form to help departments order and prepare proper nutrition for patients.
Frederick Memorial Healthcare System (Frederick, Maryland, US)
Prior to the initial appointment, new patients complete their intake forms online. This ensures that all data is properly collected and filed prior to the appointment.
HealthOne Medical Centre (Toronto, Ontario, Canada)
To help protect hospital employees, a COVID-19 checklist was created to help screen for the virus.
Aspen Valley Hospital (Aspen, Colorado, US)
Recording employee hours worked is an important part of any medical practice. Employees use an online timecard — created with Jotform Enterprise — to track hours worked.
Deca Dental Group (Dallas, Texas, US)
Uses a digital approval form to manage patient health insurance.
Danat El Amarat Hospital (Abu Dhabi, United Arab Emirates)