Card Forms
Card Forms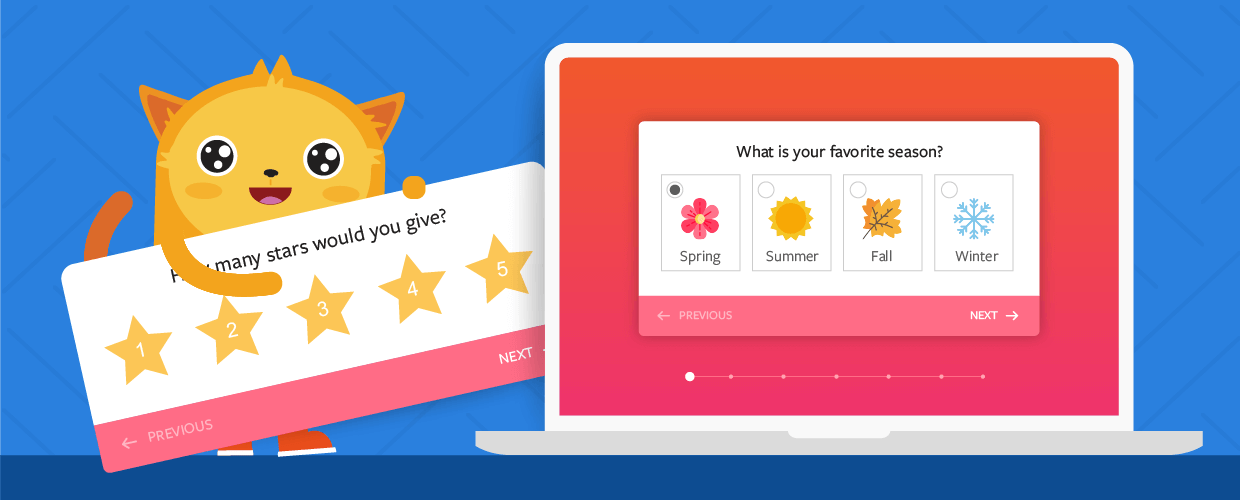 It's finally here! Introducing JotForm Cards: The friendly way to ask.So, you wanted to create one yourself? Before we get started, let's break down the anatomy of a Card Form into sections:1. WELCOME PAGE: This will serve as the very first page (or ...
It's an exciting time to jump on the bandwagon. JotForm Cards is here - A new and friendly way to ask! With this new feature, you can now create forms from scratch with as little effort as possible. Reduce the painstakingly long time of building an...
It's time to make a decision - Classic Forms or Card Forms?We know this is solely based on preferences, but we put together a list of differences between the two types of forms. It is important to know the advantages, along with some typical us...
In JotForm Cards, you can disable the submit button based on a condition and show form error messages if needed.Let's say you want to create a form that asks a code within a number field and the form cannot be submitted if the code is not correctly e...
As you may know, JotForm Cards is our Single Question Per Page format. You can see the fields through sequential pages, so people who use your forms can focus on each question better. Besides that, JotForm Cards come with a very useful feature for yo...
The arrival of JotForm Cardshas changed the general look and feel of online forms built with our platform. With the Classic Layout, forms were usually embedded within a page, linked as a button/link, or as a lightbox popup. You may also be familiar w...
If you want to collect an accurate location of the user as well as eliminate the boring part when filling out the form, simply enable Geolocation feature in the address field. This automatically detects the user's location and autofill it to the addr...
Sometimes, there is no need to show the Thank You page to your form respondents for certain forms, but you need to redirect them to another web page or another form. In this case, you can redirect your users to a URL instead of the Thank You page in ...
When JotForm Cards was launched,a lot of users started to ask how to have multiple questions in a single card. As you may remember, we designedCards Layoutto display only one question per card. But sometimes, it's necessary to ask multiple questions ...
What is Email Verification?This is a very popular method used for verifyingthe email address if it actually exists. Basically, the email address will receive a message that contains a unique code or link that will help complete the verification.Why i...
The Thank You Page settings had been streamlined for easy access and modification in the Card Form layout. It is now located in the BUILD tab of the Form Builder. It can be accessed right away by scrolling down to all the questions and after the SUBM...
In somecases,you might need to add links to the Thank You page or maybe you would like to adjust the font style andfont weight of Thank You Page. If so, here you can find the steps:1) To edit the Thank You page, scroll down to the end of the form and...
When embedding forms on a website, one of the priorities has always been the look and feel of the form. Any website owner would prefer to build a form that matches their website's design. Although the Cards Layout doesn't support CSS injection, there...
Logos bring out the identity of a company, service, or product. That's why you may want to add the logo of yours to the Welcome or Thank You page on JotForm Cards. Adding a logo is easy, you can add it to both pages or choose only one of them.Pleas...
After embedding your form to a webpage, do you ever feel that it needs some design adjustments? If your answer is yes, you can easily do that by utilizing the inline embed features of the Card Forms.In order to use our new Inline Embed features, you ...
This is a feature that you would, most probably, look for when you decide to embed your form. You would like to hide Form title or Form progress bar, or maybe both?Here is how to do that:1. While in the Form Builder, go to Settings - Form Settings:2....
We released JotForm Cards last year to provide our users with new, exciting, and dynamic design options. The Emoji Slider is definitely one of the eye-catchers.Emoji Slider is a new feature added within JotForm Cards that allows you to interact with ...
You heard about the new JotForm Cards feature we rolled out and you're wondering - "Is there a way for me to convert an existing form rather than building one from scratch?"The good news is yes, you can. Changing the form layout is po...
Letting respondents save the progress of their form to continue later required to set up two forms using Page Break elements. JotForm long time users are familiar with this configuration and have been using this alternative ever since.Newcomers shoul...