FEATURES
Jotform's Online Payment Features
With secure PCI compliance, a mobile-friendly interface, no additional transaction fees, and 30+ payment gateways available on our free plan, Jotform makes it easier than ever to securely receive online payments. Learn about the advanced features that make Jotform the best online payment solution.
Collect Debit & Credit Card Payments
Get debit or credit card payments online — without paying any extra transaction fees! Jotform never charges you to receive payments through your online forms, so you'll just have to pay the standard rate of your chosen payment processor. And with 35+ gateways to choose from, you can collect payments from hundreds of currencies and countries.
Manage Your Stock Online
Create a professional online inventory for all of your business' products. With our free Stock Control tool, you can enter your inventory amounts to personally track how much you have left in stock — as well as define option-based stock amounts for customers, and automatically send low stock and out of stock emails.
Instantly Generate Invoices
Generate invoices to let your customers order now and pay later. Use our PayPal Invoicing integration to instantly send out invoices that can be paid through PayPal, or our built-in Purchase Order app to send out custom PDF invoices and collect the payments offline.
Categorize Products
Selling lots of items at once? Break up what you're selling into product categories on your order forms and make it easier for customers to browse for what they need.
Show Off Your Products
Make your payment forms more attractive to customers — and boost sales! Display your unique products as cards, making them more visible, vibrant, and easy to find.
Product Search
Help your customers find exactly what they're looking for. Add Jotform's product search tool — available for all payment integrations — to your form without any coding.
Add a Minimum Order Amount
Turn a profit by setting a minimum order amount on your forms. This feature is built-in for all 30+ payment integrations, so you can easily keep track of expenses and profits for your business.
Payment Options for Every Business
Whether you're processing one-off payments for your products, recurring payments for subscriptions or donations, or using purchase orders to complete offline payments, Jotform offers a range of online payment options to suit your needs.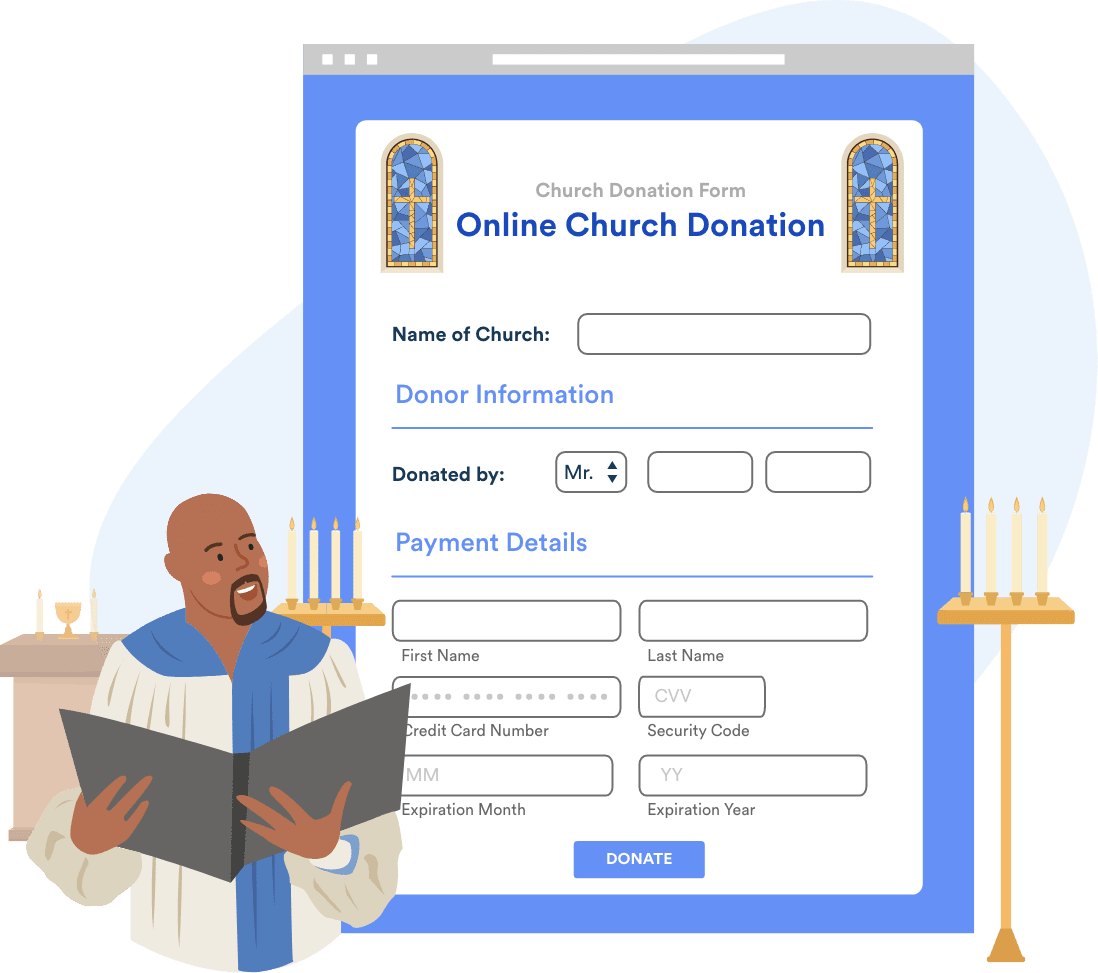 Accept Donations Online
Boost donations for your charity or nonprofit by adding a free donation form to your website. You can easily accept one-time or recurring donations — and since Jotform never charges additional transaction fees, you'll just have to pay the standard rate of your chosen payment processor.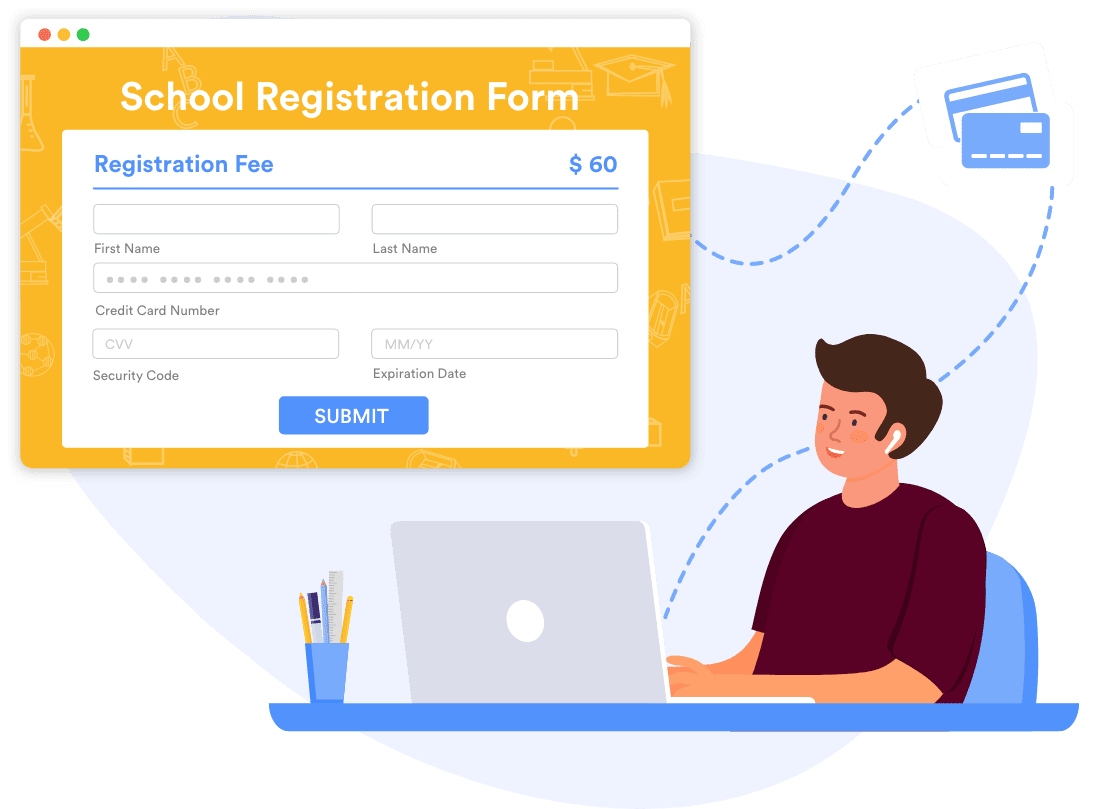 Collect Registration Fees
Register new members, newsletter subscribers, event guests, students, patients, and more. Create a sleek online registration form that gathers contact information and fee payments simultaneously. You can even collect recurring subscription payments for daily, weekly, monthly, quarterly, or yearly fees!
Generate Insightful


Payment Reports

Analyze the orders, donations, and payments you receive to better understand your data and improve your business. Build and instantly share custom live reports with coworkers using Jotform Report Builder.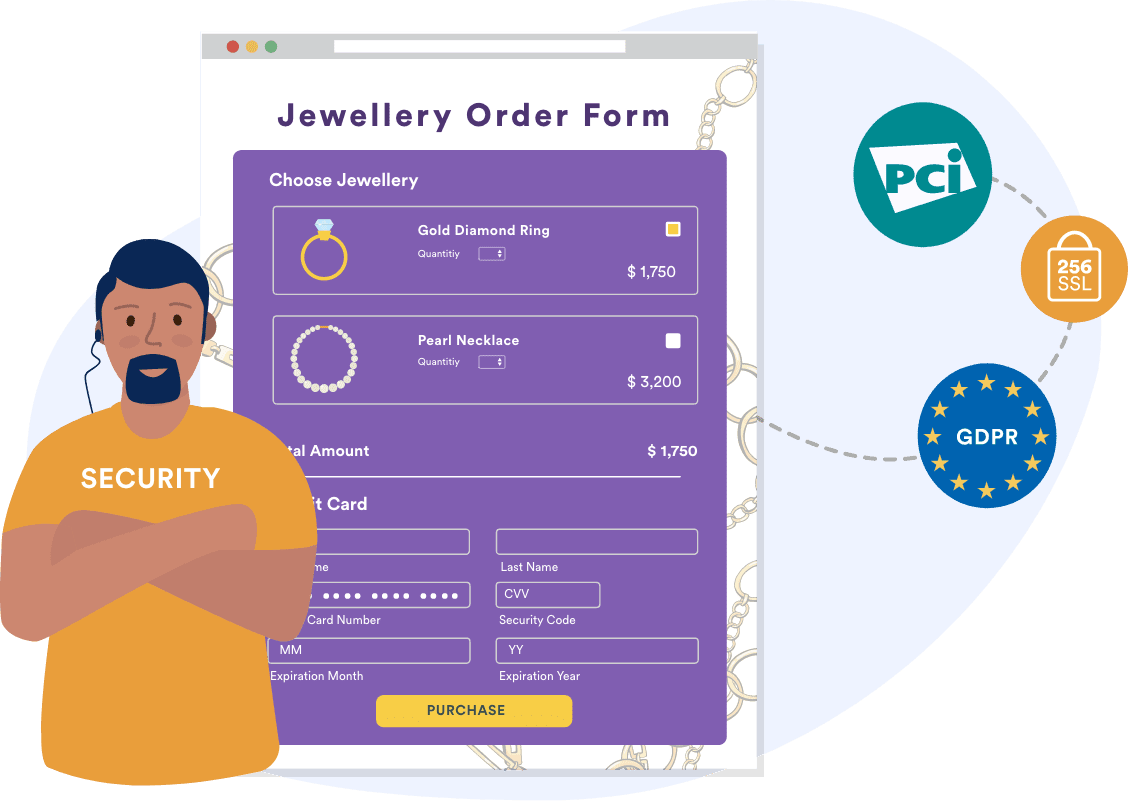 Securely Process Payment Data
Rest easy knowing your customers' payment data is protected with PCI DSS Level 1 compliance. Not only that, but Jotform keeps payment data secure with 256 bit SSL, PSD2, CCPA and GDPR compliance, and an option to encrypt your forms — giving customers peace of mind when buying from your business.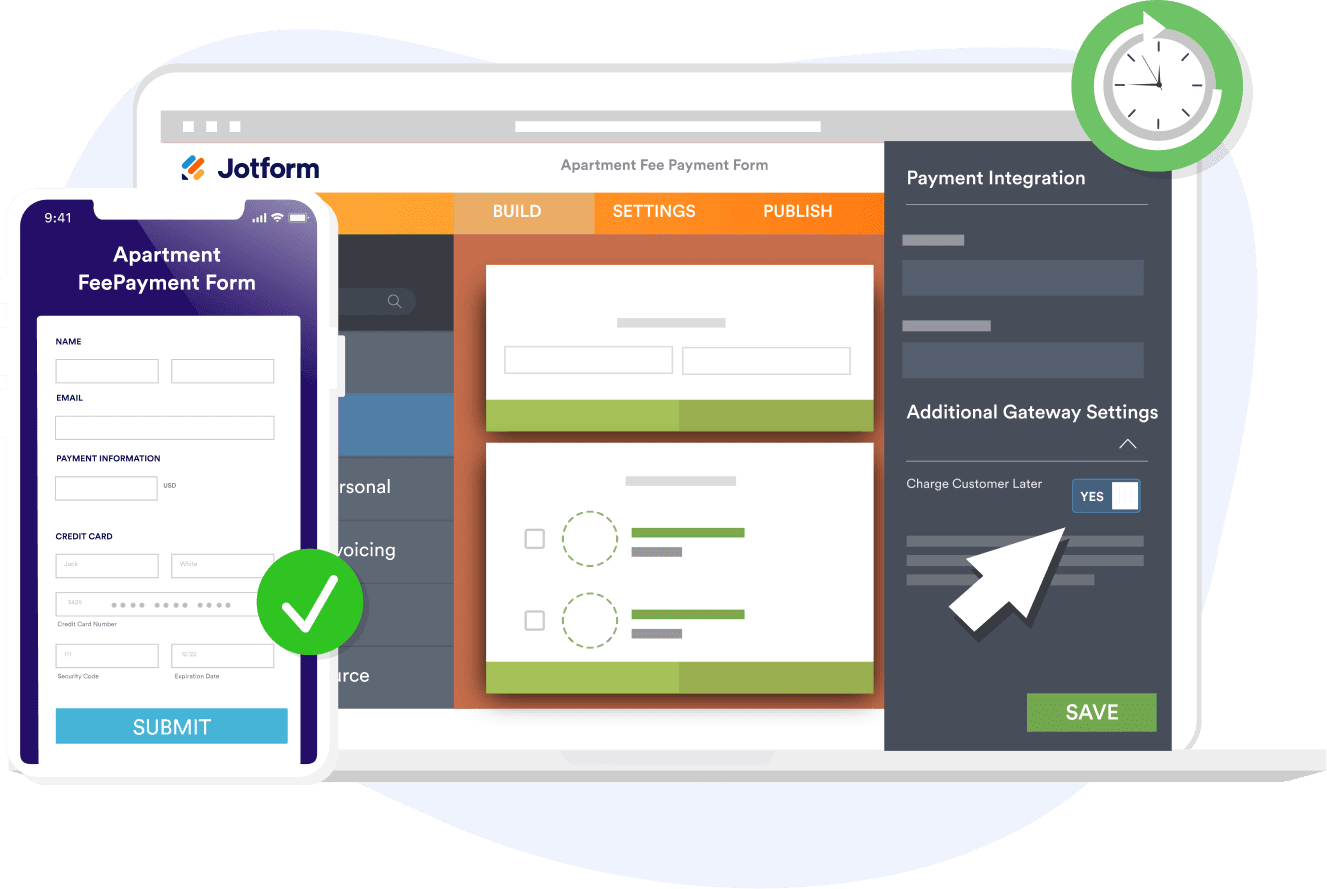 Charge Customers Later
Use Jotform's payment authorization feature to secure payment information now and charge your customers later. Currently available via Square, Stripe, PayPal Pro, Paypal Commerce & Standard, Braintree, Eway and Authorize.Net, the feature helps ensure you'll get paid, while also making sure customers are charged exactly when you want to be.
100+ Integrations
Save time and money by automating your workflow with our free form integrations. Seamlessly receive payments through your forms and offer multiple online payment options to customers with 30+ payment gateways, such as Square and PayPal. You can even automatically sync form submissions to the tools you already rely on, including Google Sheets, Google Calendar, Dropbox, Mailchimp, Airtable, and more!
Offer Customers More Ways to Pay
Boost sales by giving your customers more ways to pay. Many of Jotform's 30+ payment processors offer multiple payment options — such as our Mollie integration's 19 different payment methods including iDEAL and Klarna, PayPal Business' nine payment methods in addition to credit card and PayPal payments, and Stripe Checkout's options for Google Pay and Apple Pay.
Build a Stunning Online Marketplace
Get people excited about your products with a professional marketplace that matches your brand. Add product images and descriptions, filter products into categories, or enable a search bar to let customers easily explore your products. Jotform's drag-and-drop Form Builder lets you design a beautiful online marketplace in just a couple of clicks!
Process Discounts, Coupons, and Promo Codes
Let customers enter discounts and coupon codes into your order form. Without doing any coding, you can set up your payment form to accept valid coupons and discounts entered by your customers. Your form will automatically include the discount when calculating the total price!
Calculate Sales Tax
Integrate your online payment form with PayPal, Square, Stripe, Authorize.Net, or Verifone to assign sales tax to your products. You can set a base tax rate or location-based surcharge, and even exempt specific products from being taxed.
Add Shipping Fees
Specify the cost of shipping for products purchased through your online forms. You can set shipping costs per item or set a flat rate per transaction. And with our PayPal integration, you can even add a weight value for each product for weight-based shipping.
More Than Just a Payment Processor
Jotform does more than seamlessly process customer information and payments. With our all-in-one Form Builder, the possibilities are endless — you can gather customer feedback, collect file uploads and electronic signatures, store submissions in your other online accounts, set up advanced conditional logic and widgets, and so much more.
Receive E-check & ACH Payments
Customers are more likely to buy your products if they can pay the way they want to — so give your customers more ways to pay! Process online check payments via eCheck.Net, collect direct bank transfers via Stripe ACH, and much more.
Test Your Payment Integrations
See if your form's payment gateway works before accepting submissions from customers. Enable sandbox mode with Test Mode to run tests on your form without sending money, so you can see how the form processes payments and displays error messages for all of our payment gateways.
Free Mobile App for Phones & Tablets
All Jotform forms are mobile-friendly by default, so customers can easily fill out your payment form using their favorite device. Plus, our free Jotform Mobile Forms app will instantly send push notifications for every submission, so you can stay notified of new orders on the go.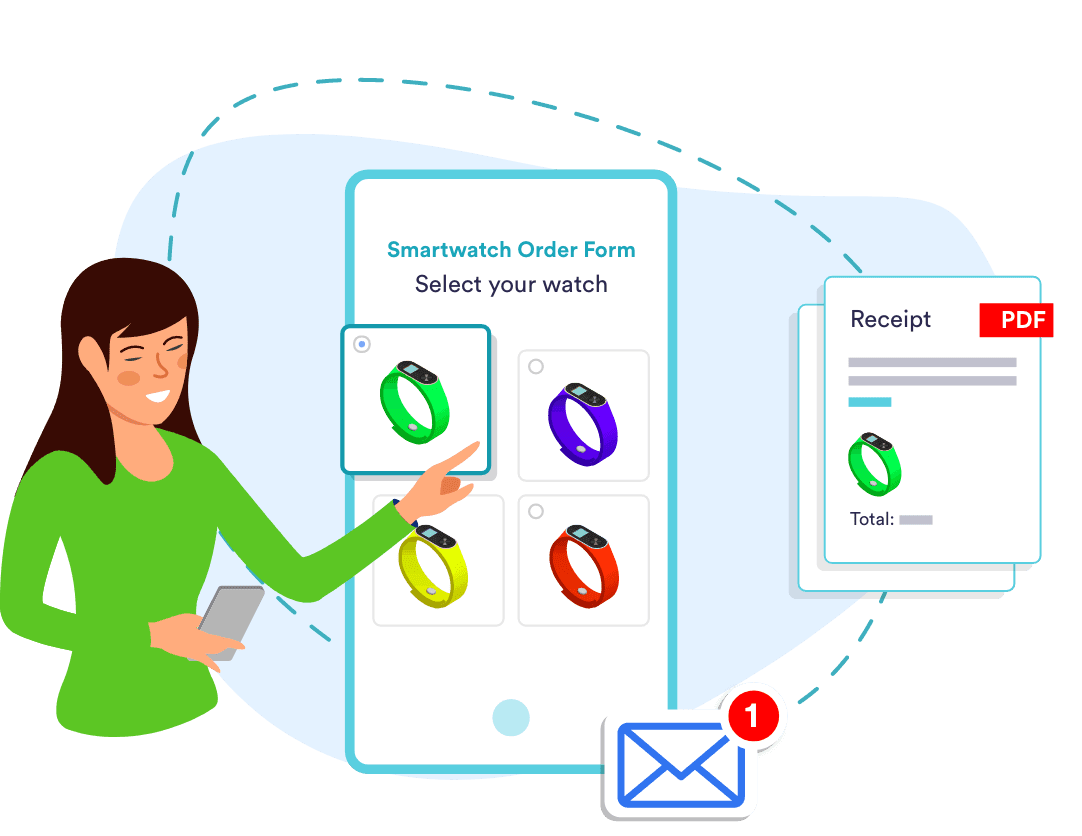 Automatically Respond to Customers
Send customers their receipts as soon as they submit their payments through your form. Without doing any coding, you can easily set up an autoresponder that instantly emails customers a personalized PDF receipt or confirmation letter with their order details.